In an interview on Tuesday, Bret Pedigo, founder of Terra Manna Land, was asked what the next step might be if his Waterbrook development wasn't approved by Argyle's Town Council.
"I'm not even thinking about that right now," he confessed. "Hopefully, that won't happen tonight, but if it does—well, listening is a big part of our job, so we'll take the problems and concerns and fix them; just like we did after the P&Z meeting. There's always room for improvements."
Luckily for Terra Manna Land, Pedigo and Argyle, the mixed-use district passed unanimously Tuesday night, with alterations to the fencing along Frenchtown Rd.
Mayor Peggy Krueger and council members Kay Teer, Eric Lamon, and Marla Hawkesworth voted to approve, with Mayor Pro-Tem Joey Hasty and council member Jay Haynes absent.
"We began talking with Argyle staff members more than a year ago," said Pedigo. "Those talks included the two existing churches, the Argyle Church of Christ and Oak Hills Community Church, to relocate their properties elsewhere in the district. It's a great opportunity for the churches to have custom buildings. It'll take a year to 18-months to move the churches and then we'll be able to develop retail where the churches are now. In the meantime, construction on single-family residences will begin at the end of 2016 or start of 2017."
With eyes turned to the future, Argyle approved its Comprehensive Plan in 2009 and created four Form Based Code (FBC) zoning districts last year. Within the FBC, the intersection of Hwy 377 and FM 407 is recognized as T4-Village Center on the Future Land Use (FLU) Plan.
The idea behind Waterbrook is to create a modern version of the nostalgic 1950's town center; a real estate version of "comfort food."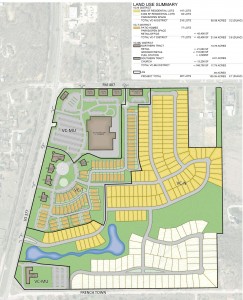 "The Future Land Use Plan does recognize that FM 407 and U.S. 377 are principal crossroads within Argyle," said Matt Jones, director of Community Development, during the council meeting. "It's meant to be a walkable, localized, very pedestrian-oriented commercial and residential development. There should be higher-density residential with the plan allowing for up to six units per acre on this property. And, the commercial is centered on these nodes and transitioned out from those commercial intersections into a more traditional style of single-family residential as it moves out from the intersections."
Waterbrook's 105.35-acres include Village Center Neighborhood, Transition, and Mixed-Use Districts. It will include 287 single-family houses, plus 191,000 square feet of commercial space for retail stores, offices, and restaurants. Surrounding land will remain Argyle's traditional larger lots.
"I've always been attracted to the particular area of southern Denton and northern Tarrant Counties," said Pedigo in the earlier interview. "It has pretty topography and good demographics– strong school districts, the people are community-oriented, there's a strong job base, the Alliance Airport and the population growth heading north along the I-35W corridor. We can build a quality environment that will be an attraction for Argyle."
He agreed that the Waterbrook aesthetic is similar in design to that of the much larger Shops at Legacy in Plano.
"We are very pleased to be here tonight, because it's a night we've been waiting for, just as with Planning and Zoning," said Pedigo during the council meeting. "There's a lot of work to do. It's a very complex project with a lot of moving parts. We think what we've brought before you is a beautiful project that we can safely say you can be proud of."
Of the 11 out of 14 speakers who spoke against the development, most praised Pedigo and his company for a great presentation. They just aren't ready to give up the town's rural appeal by adding more dense housing, potential traffic and infrastructure and more students in the schools.
Unfortunately, that's like trying to close the gate after the horses– named Comprehensive Plan, Form Based Code and Future Land Use Plan– have already left the corral.
"I moved to Argyle to have land; so my kids could go to great schools," said Tom Irwin. "I believe in the growth; I don't believe in the density. It's going to change who we are and turn us into other communities."
But, others agreed with the plan and how it can help the community.
"I'm in favor of this proposed development," said Eric Fields. "It seems to fit our Comp Plan, probably better than I've seen in other proposed projects. It seems like a quality project. For this particular intersection, we need it to be a quality project. Folks are going to drive into town and this will be one of the first developments they will see and folks not familiar with our town that's an important first impression."
Pedigo said that creating a "downtown" area that's walkable from a home to a restaurant to a grocery store or just to "window shop" is also to keep Argyle residents who no longer want to maintain larger lots, from needing to leave their friends, family or church congregations.
"Folks who raised their kids and lived on large lots and don't want to move away, want a quality home," he said. "It's not a price-point issue; it's a lifestyle shift—similar to our developments in Colleyville."
As a representative of the Argyle Youth Advisory Council, Argyle High School senior Reeves Moseley said the group unanimously agreed that a development like Waterbrook will help maintain the values he and his fellow students have lived with their entire lives. Plus, it would bring new places to eat and shop, without having to go to Denton or Flower Mound.
"I view this as an incredible opportunity to say 'yes' to this type of project, so we can say 'no' to other types of projects," said Argyle resident Wayne Holt.
Additional content by Mark Miller, Contributing Writer