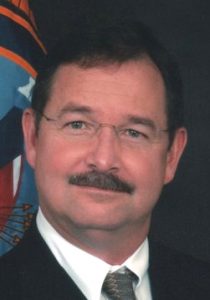 Judge Warner
On Wednesday March 9, 2016 Double Oak Municipal Judge Aniela "Angie" Jean Warner unexpectedly passed away.  Judge Warner served Double Oak for over sixteen years.  She had a Bachelor of Arts degree in History and Political Science as well as a teaching certification.  Her early career in municipal government was as a court secretary and eventually she served as City Manager for Balch Springs.
Judge Warner genuinely cared about the people she worked with and the communities she served (she served as magistrate for numerous small communities).  Judge Warner revered the United States Constitution and carried a copy with her at all times as well as presented pocket sized copies to employees of the towns she served.
I had the privilege of attending her celebration of life and hearing testimonial after testimonial about how "Angie" helped welcome new parishioners, how she was a caring neighbor and how much she loved and adored her family.  It was a blessing to know Judge Warner and she's going to be missed here in Double Oak.
Solicitors
One of our residents recently experienced an aggressive home repair salesman.  The salesperson arrived at their home claiming to have been present when their father installed a lightning suppression system over twelve years ago and that they were there to do warranty or maintenance work.  In reality the contractor and his crew did substantial damage to the home and departed with the intent of charging an older couple for their "work."  The homeowner became suspicious and notified law enforcement.  A reputable company has since been contacted, a damage estimate has been determined and a criminal investigation into the "contractor" is ongoing.
A gentle reminder about door to door solicitors for home repair.  Persons who engage in such activities only want your money.  They are not looking out for your best interests and overwhelmingly don't give a darn about the quality of their work.  You are not obligated to speak with door to door solicitors.  You are welcome to call law enforcement and have the solicitors criminally trespassed from your property.  Contractors without references, who operate out of post office boxes, are from out of state and were just randomly driving through Texas with a work crew and whose primary means of generating business is showing up at a person's house offering to provide services are, widely speaking, not reputable and not your friend.
Stray Pets
Spring is here and our pets, like people, are wanting to spend time outdoors visiting with neighbors.  We have had several instances of dogs roaming from home to home, getting into other people's yards, fighting with other homeowner's pets and generally becoming a nuisance.  From a regulatory standpoint the Town of Double Oak contracts with "Brian The Animal Guy" at (817) 401-1861 for animal control services.  It is against Town ordinance to have a dog off leash, away from your own property, and you can be cited.  Texas law is also very clear that if a homeowner has a declared dangerous dog, and permits it to bite another person, the owner can be held criminally responsible.
If you do encounter an at large aggressive dog that is chasing other people, livestock or pets please dial 9-1-1 and notify law enforcement.  If you find a dog at large (oftentimes homeowners corral a stray dog) please contact Brian The Animal Guy or you can contact Town Hall.
We do our very best to be kind to your at-large pets (including horses and cattle) and have been successful in the past with returning animals to their owners.  Unfortunately we have also had to repeatedly cite some owners to obtain compliance with what is a very basic ordinance.  Your pet is in grave danger of being hit by a car, encountering an angry homeowner, injured fighting with domestic or wild animals or being lost forever.  Please repair fences, close gates and pay attention to your animals.
Thank you for the opportunity to serve.