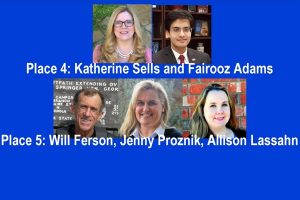 The Cross Timbers Gazette and The Lewisville Texan Journal are co-hosting a Lewisville ISD school board candidate forum this Wednesday, April 27, at 7 p.m.  
The forum will be held at LISD's Bolin Administration Center, 1565 W. Main St. in Lewisville. The public is invited to attend.
Candidates in the two contested races will each be given two minutes to introduce themselves. Moderators Bob Weir and Patrick Kelly will ask questions posed by both newspapers for about one hour. Candidates will then have two minutes each for a closing statement.
Video of the forum will be posted online by Thursday on both the Cross Timbers Gazette and Lewisville Texan Journal websites.
Early voting in the May 7, Lewisville ISD school board election begins Monday, and continues through May 3. LISD Place 4 candidates are Fairooz Adams and Katherine Sells. Place 5 candidates are Will Ferson, Allison Lassahn and Jenny Proznik. Angie Cox, in Place 3, is running unopposed.
Trustees serve three-year terms without pay, and meet monthly to discuss and vote on issues of district strategy, policy and budget.
To suggest questions for the candidates, you may email [email protected].