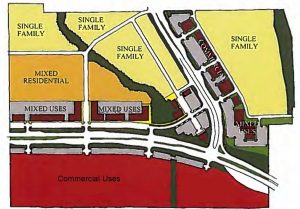 At Monday's Town Council meeting, the majority of time was spent with presentations to– and questions from– council members by the final three solid waste and recycling services providers competing for the town's five-year contract.
While waste collection may not be a natural attention-grabber, the fact that a five-year contract could obligate residents and businesses to inferior service for 60-months and/or cost unnecessary millions of dollars; it's a big deal.
On October 5, 2015, the current services provider, Waste Management, proposed a rate increase almost double the current base-rate for residential collection to maintain the current service level. The current contract with Waste Management expires on Sept. 30, 2016.
Community Waste Disposal, Republic Services (the town's previous provider) and Waste Management each gave presentations highlighting what they could offer—departure times on collection days; hazardous and e-waste collection; green-waste and landfill options; dedicated community supervisors; and, collection trucks, among others. Background checks and random drug testing was also discussed.
A comparative matrix prepared by staff raised more questions than it answered; specifically related to commercial pricing and "hidden" costs, such as sales tax, fuel and transportation fees.
Rather than make an uninformed decision, council voted to table an official first of two required readings until the May 2 council meeting. As a result, the second reading will occur after the May 7 election for at least two new council members.
Town Sports Field Usage
 While the solid-waste and recycling contract took the most time, the largest number of audience members came to speak about sports-field usage.
Ten adults and multiple participating players came to support the FMYFA (Flower Mound Youth Football Association) league.
Deputy Mayor Steve Dixon politely interrupted the concerned speakers to inform them that the Town Council plays no part in the decision of ruling what groups are allowed use of the town's sport fields.
"The PALS Board looks at all the applicants and then makes, or maybe not makes, a recommendation to the town's staff," he explained. "The PALS Board is set to meet on Thursday, May 5, and I would encourage you to bring everything you shared with us to share it again with them."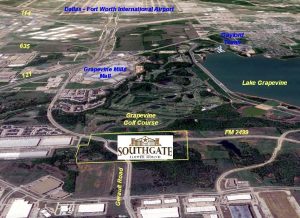 Southgate
The "flashier" agenda item was an official approval of the Phase I Development Plan (DP) of the Southgate mixed-use project. The council's vote-to-approve was merely a legal requirement; not a judgment of the actual development design.
A 2013 amendment opened the Lakeside Business District to allow limited residential development. On April 20, 2015, Ordinance 25-15 was approved by Town Council for a Master Plan Amendment and zoning change for the Southgate Planned Development (PD-134), with both residential and non-residential uses in compliance with the Campus Commercial land-use designation.
On Sept. 21, 2015, the Town Council approved the DP plans for the northeast, northwest and south tracts and a Master Plan Amendment to change the land use from Campus Industrial to Campus Commercial uses for the entire 108.3-acre Southgate development.
The DP includes both the northwest (48.321-acres) and northeast (17.1-acres) tracts within the Southgate development and contains approximately 78.69 acres of land. The proposed plan is in compliance with the Development Agreement for Southgate, which limits the maximum number of single-family residential units to 475.
Development Services Executive Director Doug Powell said the northwest tract is the first area with residential and park land to be developed.
The DP approval is for 422 buildable, single-family lots, out of which 347 are single-family attached residential lots and 75 are single-family detached residential lots.
Mayor Tom Hayden had said the original plan was for 1,200 apartments, which was opposed by the council. He added that the current property owners have said they have no interest in building any apartments.
"Putting that many residential lots at the entrance of our town — at the beginning of a commercial zone– I'm having a hard time with this," said council member Kevin Bryant. "But, the property has been zoned already."
That Master Plan and re-zoning history was also why the item was not open for public participation; it's a done deal.
Town Attorney Bryn Meredith was asked what would happen if council did not approve the DP for Southgate.
"State law mandates council to approve [in a public meeting] the plat to avoid liability," he said.
Meredith added that because the zoning and land use have been approved, the DP was merely part of the land re-platting process.
Considering the legal consequences, Dixon attempted to put things into perspective.
"What would you rather have on this property; an apartment complex with rental units or single-family ownership?" he asked. "I think most people in Flower Mound are automatically going to say ownership."
The vote to approve was 4 to 1. In spite of the liability repercussion, Deputy Mayor Pro Tem Itamar Gelbman voted against approval.
Lisanti 360 Agreement
 With much goodwill and a unanimous vote, council approved a Chapter 380 Agreement with Lisanti Foodservice to bring its headquarters and distribution center to Flower Mound.
Owner Joe Lisanti, who moved operations to Texas, told the council that the family-owned company was started by his father in 1929 in New Jersey. It distributes food to Italian-food restaurants and pizza shops across the Midwest and Southwest, including Salerno's, Bari's and Alforno's in Flower Mound.
The agreement is for a five-year term; the town will rebate 50-percent of real and personal property tax in addition to a previous agreement, which also carries a 50 percent real and personal property tax abatement.
Economic Development Director Mark Wood said over a 20-year period, the town will receive a net benefit from sales tax plus real and personal tax of about $1.2 million, factoring in the rebate cost of $115,000. Additionally, Lisanti will bring 160 new jobs to town.
Lisanti will purchase a 164,580-square-foot building located within the Huntington Industrial DFW Airport II development, on the west side of the Lakeside Business District. The business will relocate by the end of 2016.
Town's Veteran Liaison Named
Bryant introduced long-time resident, SIM and military veteran Doug Brown as a volunteer to fill the proposed position of Veteran Liaison. The position will serve as an information and direct-action go-between for veterans and town staff.
The creation of the position and Brown to fill it was unanimously approved.
Temporary Farmer's Market Update
Town Manager Jimmy Stathatos informed council that staff has been in talks with a potential manager for the town's Farmer's Market on the temporary location in the Town Hall parking lot. A tentative start date of May 21 is possible.
Possible Future Agenda Item
An existing Tree Ordinance exempting single-family property from the Tree Preservation Ordinance created a cloud of doubt over a previous council decision.
Property-owner Felipe Delgado, 2601 Rembert Dr., alerted council members of his possible intent to clear-cut his one-acre property, including four large canopy specimen trees located near the intersection of FM 2499 and Rembert Dr.
He said his possible action is as a result of council's April 4 denial of a Master Plan amendment and rezoning land use plan from medium- to high-density for the proposed Parkside at Woodlake development by Reginald Rembert. That DP would have preserved two of the large trees.
"With the rejected development of my property, the city has determined the disposition of my property," said Delgado. "My plan is to remove all of the trees that prevented me from selling my property to a buyer. I have been informed that because of the council's vote, the property's no longer as desirable or valuable as before the vote."
He added that the vote may have been due to incorrect information and urged council to put the item on a future agenda and reconsider the previous requests from Rembert.
Dixon informed the other council members that were the land still zoned Agricultural, removal would be limited to 20 trees. The property, however, has an existing PD-medium-density with a single-family residence exemption.
Meredith informed the council that given the background involved, listing the item on a future agenda will require a written, rather merely verbal, request.