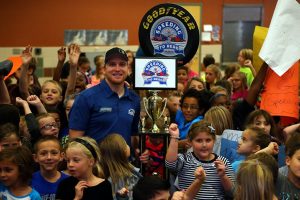 E.P. Rayzor Elementary in Lantana has retained its lead in Texas Motor Speedway's Speeding to Read program, with all of its students meeting their reading goals for their third consecutive portion of the contest.
All of E.P. Rayzor's 533 students from kindergarten to fifth grade met their reading goals during the third of four checkpoints in the contest, keeping the school in the lead of both its division and the overall contest.
With 100 percent of its students meeting their goals, E.P. Rayzor is leading 11 other North Texas schools, only three of which have at least 96 percent of their student populations reaching their goals.
The school also came away with three individual honors, as siblings Olivia and Noah Turner won their student divisions and teacher Melanie Peterson winning her classroom division. First-grader Olivia won the K-2 division by reading 4,623 books, and her brother Noah won the 3-5 division by reading 715 chapter books. Mrs. Peterson's kindergarten classroom won its division by reading an average of 884 books per student.
As part of their victories, E.P. Rayzor and its individual winners will receive new books from Speeding to Read partner Score-A-Goal in the Classroom.
E.P. Rayzor is the defending Speeding to Read champion, having won the 2014-15 competition in just its second year in the program. The school finished with 99 percent of its students reaching their reading goals in 2014-15, the program record. The school was a division champion in 2013-14, its first year in the program, but fell just short of the overall victory.
For more information about the Speeding to Read program, visit www.speedingtoread.com.