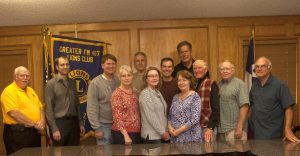 by Mark Miller, Contributing Writer
In the summer of 2014, a group of Denton County residents from Bartonville, Copper Canyon, Double Oak and Lantana were searching for a charitable organization with which to partner as a way of making their special communities even better.
The result was the formation of the Greater FM 407 Lions Club, chartered last summer with about 20 members.
"The Lions Club seemed to be a great fit because they're the largest service organization in the world, with about one-and-a-half million members in 200 countries," said club president Harry Otto of Bartonville. "They [the Lions] have a clear mission with vision care, helping disadvantaged children and disaster relief. So, the community-service focus seems to be something people were really interested in."
In its short history, the FM 407 Lions Club has raised $8,000, which has been used to help house fire victims in Bartonville and Double Oak. The group assisted with the National Night Out last fall and the Bartonville Police Department's Blue Santa program this past December.
"We have a dedicated group of people who are working hard on a number of projects including establishing eyeglass drop-off boxes in the area," said Otto, who is also the owner of Lewisville-based Business Machines International. "Some have gone to the Lions Club training for vision [screening] in the schools and for adults."
They plan to visit Lantana schools and area private facilities which can benefit from vision screenings. Also, starting this spring, the first of quarterly cleanups around FM 407 are planned.
Future events include some type of athletic event, like a 5K or bicycle race, as well as participating in Double Oak's July 4th celebration.
In addition to Otto, other club officers are: Rich Weklar, vice president; Sherry Price, secretary; and Joe Adair, treasurer. Weklar and Price live in Bartonville; while Adair lives in Mansfield, but works in Flower Mound.
The club meets the second and fourth Tuesdays of each month at 6:30 p.m. at Bartonville Town Hall. Membership costs a one-time $25 entry fee, plus $15 per month for individuals and $25 for families. Military veterans don't pay an entry fee.
The Greater FM 407 Lions are actively seeking more members, who do not have to live or work in the four communities. Contact one of the board members, visit www.fm407lionsclub.org, or attend a meeting to join.
"There're a lot of people who want to do good and the Lions is a good vehicle to accomplish that," said Otto.