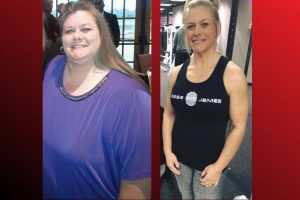 by Jesse James Leyva
After being struck by a drunk driver in 1999, Vicki Johnson lost her ability to walk. Being left immobile and in a motorized wheelchair, Vicki was told by doctors that she would never walk again and would soon over the years reach a weight of over 430 pounds.
Around early 2012, Vicki brought her daughter into Jesse James Fit to train with one of our trainers. I instantly joked with her when she would come in and constantly encouraged her to train with us as well.
Finally after months, Vicki asked one of our trainers about starting a training program. I was amazed and so excited for her, knowing that this could change her life if she wanted it bad enough.
So the journey began. With lighter high-rep weight training, a new diet and a few months later, a doctor-recommended gastric bypass, Vicki was on her way to a new healthier lifestyle and was soon out of her motorized wheelchair.
That's when she realized that the surgery didn't change what was in her mind but it was a good start in the right direction.
You see, Vicki did the most important thing when it comes to weight loss. She made a change to her mindset! She wanted a better life for herself and nothing was going to get in her way.
After her surgery and years of diet and exercise, Vicki had lost over 300 pounds and kept it off!
She later went on to have over 15 pounds of skin removed and because of the damage to her bones, muscles and tendons from the accident, she also received two knee replacements helping to give her the ability to walk again after 16 years in a wheelchair. She still has a few more surgeries on her legs but that is not stopping her.
As of 2016 Vicki has reached her lowest healthy weight of 132 pounds and completed her very first full leg workout just last week. More importantly, Vicki has now joined the team of elite trainers at Jesse James Fit here in Flower Mound as a personal trainer so she can have an impact and bring positive change to others!
I've wanted this for Vicki for years now and after talking about it, it now is a reality. Congratulations Vicki and welcome to our TEAM!
Visit Jesse James Fit online or call 972-355-2639.