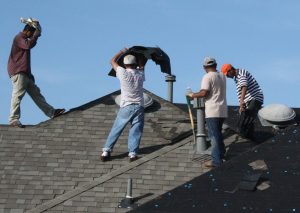 Many area residents are reeling after a series of overnight hail storms pummeled homes in Flower Mound and Lewisville on March 23rd.
The Better Business Bureau Dallas office sees spikes in complaints for roofers proceeding spring hail storms–sometimes as soon as the next heavy rainfall occurs. To help prevent further financial loss and frustration among residents that experienced property damage, BBB Serving Dallas and Northeast Texas offers tips for repairs after hail storms.
"The most important thing is to avoid high-pressure sales pitches and be wary of individuals that ask you to sign over your whole insurance check," said Phylissia Landix, spokesperson for BBB Serving Dallas and Northeast Texas. "That's why BBB has assembled Tips on Storm Repair, Recovery, and Relief on our website to help find trustworthy roofers, avoid scams, and be savvy when paying contractors."
Find BBB's Tips on Storm Repair, Recovery, and Relief, here.
BBB Dallas reviewed its files after the recent storms, identifying over 50 roofing businesses that have an "F" rating in its 13 county service area.
In 2015, BBB Dallas received 1,058 complaints against roofing contractors. The highest spike in complaints against roofers in 2015 happened at the end of the year in December. This spike correlates with Dallas's record November rainfall and hail storms and subsequent December tornadoes. A spike in roofing complaints in December is unusual, as BBB finds that customers traditionally work with roofers in the summer months.
According to BBB Scam Tracker, BBB's interactive tool that tracks reported scams throughout North America, there have been at least 175 scams reported that deal with home repair since Feb 2015. Sixteen of those victims were in Texas. Seven were in the Dallas area.
Some main points from Tips on Storm Repair, Recovery, and Relief:
Find trustworthy businesses:
Don't let your emotions get the better of you. Don't make hasty decisions about contractors. Make temporary repairs if needed (keep receipts), take photos or videos, and contact your insurance agent as soon as you can.
Don't sign over your entire insurance check. Pay in installments for repairs, so that you don't lose the entire amount if you encounter a problem.
Get references from friends and relatives and contact Better Business Bureau to obtain free Business Reviews on any business you are considering hiring by visiting bbb.org.
Insist on a written contract. The agreement should specify the work to be done, the materials to be used, and the price breakdown for both labor and materials. Get a copy when you sign it.
Review all documentation before signing on the dotted line and before making any payment. Be sure it specifies the schedule for releasing payments to the contractor. Ask for a start and end date for the work to be done.
Avoid scams:
Be wary of door-to-door workers who claim to have left-over materials from a job "down the street" or who do not have a permanent place of business.
Be careful allowing someone you do not know inspect your roof. While most roofing contractors abide by the law, an unethical contractor may actually create damage to get work.
Beware of high-pressure to sign right away. This is a sign to look at an offer even more carefully.
Report to BBB Scam Tracker and check BBB Scam Tracker first. If a scenario seems strange, use caution. Check at bbb.org/scamtracker/dallas to see if other people in your area have reported a scammer. You can also report a scam if you find that you have fallen victim, so that you can warn others.
For free BBB Business Reviews, lists of BBB Accredited Businesses, tips and alerts, help with complaints, or to report false advertising, start at www.bbb.org/dallas.