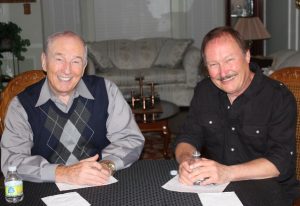 It's election season and many candidates have thrown their hats in the ring in an effort to become part of the structure of government in their local communities.
Richard Yerxa, who, with his wife Jeanne, have been residents of Bartonville for 16 years, has decided to run for Place 2 on the Bartonville Town Council.
Recently, Mr. Yerxa came over for a video interview, which accompanies this article. His opponent, Councilmember Jaclyn Carrington will also be invited for an interview. The following information was provided by Mr. Yerxa:
"I'm a native Texan, born in Arlington, and attended UTA as an engineering student. I became a gemologist and opened my first jewelry store in Dallas in 1975. I grew the business to 4 stores and retired in 2005. I continue with an appraisal business from our 16-acre home, built in 2000. Jeanne and I grow and harvest fruit and pecan trees and coastal Bermuda grass. We are members of Cross Timbers Church since 2000, and I serve on the Community Development Corporation Board. I'm also active in the Republican Party and attend local events. My platform is based on 3 issues, which I feel are vital for a responsibly managed town.
Public safety and security, i.e., a strong, vigilant police force.
Financial solvency: Positive actions are needed to avoid a tax increase and ensure a reliable revenue stream to support a realistic budget.
A vision for the year 2030: Rational decisions are paramount to secure our town's future. This means managed growth in the best interests of all of our more than 1650 citizens.
"Without reasonable retail development, where it makes sense, and residential development where it makes sense, we will soon be in trouble, if not on the borderline of serious problems.
"One of the biggest problems in Bartonville has been a Council that consistently opposes development of any kind. That attitude must change, especially for those who have invested in their land and can do little with it; hostages in their own town, without a future for developing. It means little to be able to sell your land, if you cannot profit and the buyer cannot reasonably modify his new property. It's like having money in a bank and being denied the right to withdraw it."
For more info on Mr. Yerxa, click on his Facebook page: www.facebook.com/Richard-Yerxa-for-Bartonville-Town-Council-529439990550594/
Bob Weir is a long-time Flower Mound resident and former local newspaper editor.