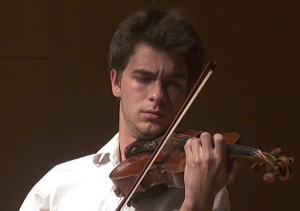 Josip Kvetek, viola, and Hando Nahkur, piano, will be the featured performers at the final International Chamber Series concert of the Lewisville Lake Symphony's (LLS) 2015-2016 season.
Josip started his violin education at the age of seven in the town of Osijek in his native Croatia.  He later switched to the viola. He has performed numerous recitals throughout his homeland, as well as in Austria, Serbia and Italy.
He has won numerous national and international competitions and most recently placed second in the LLS International Competition for Strings.  He was winner of the UNT Concerto Competition and performed with the UNT Symphony Orchestra in March 2015.  He will receive his Bachelor of Music Degree from UNT in May of 2016.
Hando Nahkur was born in Estonia, but moved to the United States more than a decade ago to begin studies at Yale University School of Music.
He has won numerous contests in both Europe and the United States and has performed all over the world.
His second CD was named Record of the Year by Zeit-Online, Germany's largest weekly newspaper, which said:  "Hando Nahkur is one of the greatest new surprises of the classical music scene…With this CD he establishes himself amongst the greatest pianists."
Nahkur holds five degrees from four U.S. universities: Yale, New England Conservatory of Music, TCU and SMU Meadows School of the Arts.
The concert is on Friday, March 18, at 7:30 p.m. at Trinity Presbyterian Church, 5500 Morriss Road, in Flower Mound. It is free, but donations are accepted.