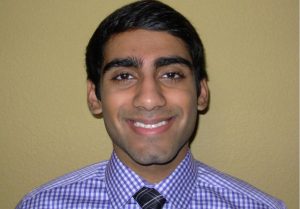 Sid Nair has a variety of interests that FMHS allows him to explore.
He serves as Student Body Vice President, Historian for the Math Honor Society, is a member of the National Honor Society and is a shooting guard on the basketball team.
"I like to be involved in the community and help out as much as I can," Nair said. "I am also a member of the Environmental Club, so we do a lot of things for the environment. I just like helping people."
The Flower Mound senior is also a member of the Science National Honor Society and volunteers at the Christian Community Action (CCA) Center. He also helps prepare for events and fundraisers around the school, when the opportunity presents itself. He added that the people are one of his favorite part about going to Flower Mound High School.
"It's probably the good vibe that I get from the school," Nair said. "I'm always meeting new people and people are always smiling; it is a great environment at the school."
Nair said the biggest concern facing young people today is peer pressure and said that what he will remember the most about his time at Flower Mound was budgeting his time properly.
"I am always very time-oriented for studying and getting everything done on time," Nair said. "With school, if you are behind a day, you have a lot to make up."
Nair would like to be an orthopedic surgeon when he grows up.
"That's because I want to have a career in medicine, but I also want to go with something that allows me to pursue my passion with basketball and sports," he said. "So I feel that those combine really well."
Nair has a 4.24 grade point average and is ranked 190 out of more than 800 students.
Nair's Favorites
Favorite Athlete: Kobe Bryant
Favorite Sports Team: Dallas Mavericks
Favorite Subject: Math
Favorite Food: Pizza
Favorite Movie: Star Wars
Favorite TV Show: Sponge Bob
Last Book Read: Hunger Games
Favorite Musical Group or Performer: Drake
Outstanding Students are brought to you each month by PointBank.