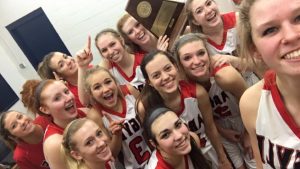 If the Girls 4A State Basketball finals seems familiar, there is good reason.
All four of the teams that are in the finals were the same teams from last season.
Interestingly enough, Argyle did not take on Liberty Hill en-route to their state championship run last season, but that is who the Lady Eagles will square off with at 3 p.m. on Friday at the Alamodome in San Antonio.
Coach Skip Townsend said that his team is in good shape as the state tournament approaches.
"We seem to be peaking right now and playing great team defense," Townsend said.
The Lady Eagles enter the game with a 33-1 mark versus a Liberty Hill team (36-3) that presents some offensive juggernauts, to say the least.
"They have a 6-foot-7 post (Sedona Prince) that is a great player on both ends," Townsend said. "We will have to contend with that and some good three-point shooters."
The Lady Eagles have been no slouch, themselves, on the offensive side of things, averaging 71 points a game during their five playoff contests.
Argyle is led by Vivian Gray (23.8 points per game), who scored 36 points against Dallas Lincoln on Saturday to punch their ticket to the state tourney.
Townsend said for Argyle to emerge victorious over Liberty Hill, it will need to do four things.
"We will have contain that post, cover their outside shooters, handle the full court press, and out rebound them," Townsend said.
As the defending 4A state champions, Townsend said that the Lady Eagles do have a target on their backs, but was quick to add that opposing teams can only face them one at a time.
"Everyone is always after Argyle," Townsend said. "But the teams will all be focused on their opponent on Friday."