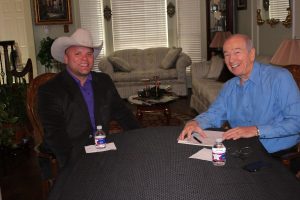 There are two candidates in the race for the Texas State House of Representatives in District 106. Trent Trubenbach is challenging two-term Rep. Pat Fallon in the Republican primary on March 1st.
Recently, Mr. Trubenbach came over for an interview, which included a video. Information provided by his office included the following. "Trent Trubenbach, age 38, is co founder and CEO of TRU exploration.  Mr. Trubenbach was born and raised in Muenster, Texas, population 1,500. The Trubenbach Family name has extensive background in oil and gas as well as land acquisition through many generations.  After being attributed with 'All American' status in high school athletics, and receiving his degree in Business Management from University of North Texas, Mr. Trubenbach was drawn to the business world to build and continue his Family legacy. While early endeavors brought Trent to Lennar Family of Builders, and many honors and accomplishments to follow in the next three years, he recognized the potential of being a business owner in 2002.
"By 2005 Mr. Trubenbach was highly recognized as a visionary of the industry and was writing in excess of $20 million a month in sales.  In 2006, Trent sold his accomplished business in order to advance his career in the oil and gas industry.  Over the next several years with registered broker dealers in the Dallas area, he obtained significant knowledge regarding investment strategy, operations management, and completion procedures that have proven to be a valuable asset to TRU Exploration.  In his career he has been awarded many prestigious awards such as Realtor Magazine's 'Top 25 under 25' and American Home Builder's 'Top 30 under 30.'  Mr. Trubenbach has been married for ten years and has two children.  He is involved in a number of private and civic organizations in his community, including American Minds, and Pilot Point youth sports."
In the short video below, Trubenbach talks about his career, the oil and gas business, gas-fracking, his reasons for running for political office, and how he's campaigning for the position.
Bob Weir is a long-time Flower Mound resident and former local newspaper editor.