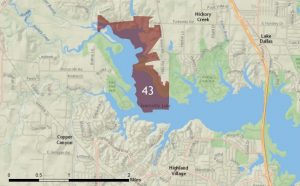 The Bureau of Land Management will sell a 10-year mineral rights lease for a section of Lake Lewisville at a live auction in Santa Fe, New Mexico on April 20.
The winner will get the rights to extract natural gas locked in the Barnett Shale beneath a 258.9-acre collection of parcels underlying the western arm of Lewisville Lake in the Hickory Creek branch.
Lake Lewisville is the source of drinking water for a majority of southern Denton County residents and several environmental groups are mobilizing to try to stop the sale.
Read more from the Lewisville Texan Journal.