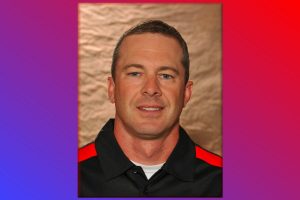 Flower Mound High School (FMHS) announced today that Brian Basil will be its new head football coach/athletic coordinator.
Basil comes to FMHS after 10 years as the athletic coordinator/head football coach at Irving MacArthur High School, where he led the team to multiple Class 5A/6A playoff appearances.
"I am extremely excited about the opportunity to lead the Flower Mound football program," Basil said. "We have a vision in place to build a program that reflects the standards of excellence that define Flower Mound High School and Lewisville ISD. My goal is to assist all coaches and student-athletes in all of our athletic
programs to reach a level of success on and off the field that contributes to their overall high school experience."
Basil was named Dallas Cowboys' Coach of the Week in 2012. His team received Dallas Cowboys' Team of the Week honors in 2014, as well as the District 6-5A Coaching Staff of the Year award in 2012. He has coached 102 college players overall, including 46 NCAA Division I signees.
"I am pleased to welcome coach Brian Basil to the Jaguar family," FMHS Principal Sonya Lail said. "He is well respected in the football community and brings to FMHS great vision, passion and energy. He has shown he is a proven winner, as evident with his multiple postseason appearances. Coach Basil is committed to developing an overall football program built on work ethic, character development and leadership skills, which will help all athletes reach their maximum potential."
Basil is expected to officially join FMHS the beginning of February. He takes over the program from Dane Johnson, who resigned at the end of the 2015 football season.
"We look forward to working with Coach Basil, as he takes over the reins for Flower Mound football," LISD Athletic Director Tim Ford said. "He has a proven track record and is a man of great character and passion, which should work well with the Flower Mound community."
Basil has also served as the the head football coach/athletic director at Crandall High School in Crandall ISD (2005-2006). Prior to Crandall High School, he served as the defensive coordinator at Irving MacArthur High School (2002-2005) and began his coaching career as the assistant football coach at Colleyville Heritage High School in Grapevine Colleyville ISD (1996-2002).
Basil played college football at Division I Miami University in Oxford, Ohio (1989-1992), where he played defensive back and received his Bachelor of Arts degree with a Zoology (Pre-Med) major and a Sociology minor in 1994. He holds a teaching certification in Composite Science.
He and his wife, Michelle, are planning to move to Flower Mound. They have two children: 8th-grader, Kaden and 6th-grader, Kallie.