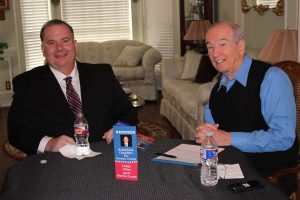 In a continuing effort to inform the public about the functions of government, including the many layers of judicial service in our court system, I invited Steven Weinstein, a candidate for Judge of the 431st District Court in Denton County, to come over for a video interview.
Mr. Weinstein is an attorney with 23 years of experience practicing law in Texas. The candidate has been married for 21 years and has a 19 year-old daughter on a scholarship to UT Dallas, and a 16 year-old son who attends Hebron High School. In his campaign literature, Weinstein states "I've had both a successful and lucrative legal career. I could retire now and never work again, but, having accomplished what I have has not brought me what I'm looking for in life. It's something that money and prestige can't buy, but, is often talked about in law school. It's justice! The term "Justice for all" is something I believe in with all my heart."
On his campaign website: www.weinstein4judge.com, Mr. Weinstein states: "True belief in justice for all, and if elected, I will do everything in my power to make sure litigants in both civil and criminal cases assigned to my court will receive a fair, even handed, unbiased judge. Strong belief in giving everything I can back to my community. I have taken on over 100 plus annual hours of pro bono legal work throughout my career. In the past two years I have received the presidential gold medal for volunteerism based on well over 500 hours of volunteer work each year."
To learn more about Steven Weinstein please click on the video below. Also, check out the Denton County Republican Party website at: www.dentongop.org.

Bob Weir is a long-time Flower Mound resident and former local newspaper editor.