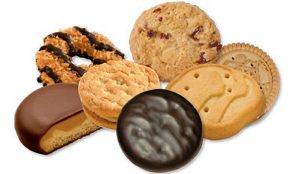 Girl Scouts of Northeast Texas kicked off its 2016 Cookie Program Jan. 15 and sales run through Feb. 28.
The Girl Scout Cookie Program provides girls the opportunity to own their own business and raise money for their year-round activities, and teaches them core leadership skills including goal setting, decision making, money management, people skills, and business ethics.
"As the mother of a Girl Scout Cadette and leader to nearly 27,000 Northeast Texas Girl Scouts, I witness the positive skills the Cookie Program instills in girls every year," said Jennifer Bartkowski, CEO of Girl Scouts of Northeast Texas.
"Investing in a box of cookies means investing in the future leaders of our community. In addition, that investment supports volunteer training and girl programming, including the new STEM Center of Excellence."
Community service through Project Troop to Troop has become a cornerstone of the Girl Scout Cookie Program. It encourages members of the community to buy Girl Scout cookies for donation to military personnel at home and abroad.
This year, Project Troop to Troop cookies will be transported to Fort Hood, the USO and the American Red Cross. Girl Scout Cookies will also go to local veterans' organizations and wounded soldiers.
In 2015, Project Troop to Troop in northeast Texas donated more than 80,000 packages of Girl Scout cookies.
Last year's two new flavors, Rah-Rah Raisins and Toffee-Tastic gluten-free cookies, will stay in the lineup and be sold alongside Girl Scout classics Thin Mints, Tagalongs, Samoas, Trefoils, Do-Si-Dos and Savannah Smiles.
Cookies can be purchased for $4 a box and Toffee-Tastic cookies sell for $5.
In 2015, the Girl Scouts sold 3.1 million boxes of cookies.
Girl Scout cookie fans can expect to see Girl Scouts participating in individual sales and at cookie booths in their area. Customers can find nearby cookie booths by downloading the Cookie Finder app. The app is available for iPhone and Android by searching GS COOKIES in your phone's app store. Customers can search for sale locations by zip code and share with friends on social media.
For more information about the Cookie Program, visit www.texascookietime.org.