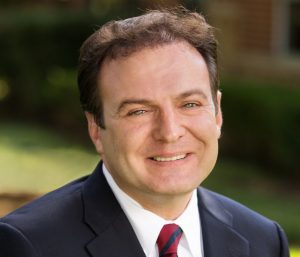 Happy New Years to all.  As I enter my seventh year serving on Flower Mound's Town Council, I was reflecting upon the time I've served with mayors Jody Smith and Melissa Northern, and then the four years I have been mayor.
In the Town of Flower Mound, the mayor does not have a vote on agenda items and I've often been asked, what exactly is the role of the mayor?
In the simplest terms the mayor serves as the executive officer of the Town, the spokesperson and the chair of the meetings.  However, the real role for the mayor is to envision where we will be in 10 years, 20 years while taking into account what makes our town a unique place to live, the appeal to our residents, and the geography of where we are situated in the Dallas/Ft. Worth area; and to bring the council along with that vision.
What is conceptualized today in many instances won't become a reality for many years.  For example the Riverwalk was officially approved in 2007 after many years of planning and it is only today the actual river is being built.  But plans we make today are the sprout in the future.
Parks
Parks, Trails and open spaces are something our town has always been known for and what attracted many of us to Flower Mound. The town already has a sizable investment in our trail system and it should be something we continue to emphasize.  As projects come forward, trail connectivity should continue to be one of the first questions we ask. 
Additionally it seems we are always running short on sports fields.  It is a significant investment to make, but we as a community need to seriously consider adding an additional sports complex.  One with not only practice fields but game fields, a tennis complex, etc.
Further, in the center of town in the Cross Timbers Area, as land is set aside, we should consider adding a passive Natural Park, with walking trails, gardens, our own central park.
Infrastructure    
One of the greater obstacles facing Flower Mound over the next decade or two will be transportation.
Where Flower Mound is located in southern Denton County is similar to being at the bottom of a funnel.  As Denton County's population is expected to double over the next 20 years we will continue to have ongoing traffic issues regardless of the growth rate of our town.
Continued emphasis has to be placed on not only planning but implementing the town's thoroughfare plan.  The greatest hurdle always seems to be funding, especially when trying to receive TxDOT Support.  The seed has to be planted years, if not decades in advance to work oneself up the priority list and it requires ongoing attention.
Another area that requires ongoing consideration but many times is forgotten is the town's underground infrastructure.  We often think of Flower Mound as being a new town, but in many areas the sewage systems are getting towards the end of their life cycles.  Without ongoing maintenance and upgrades the onetime expense of a complete overhaul is prohibitive.
Development
This seems to be the one area that catches the attention of most in our town and that is to grow or not to grow.  For the last ten years Flower Mound's population has increased by an average of 1% a year, one third of the rate of Denton County as a whole.  So in reality Flower Mound really isn't growing very fast.
It is true there has been a recent acceleration in Commercial Growth with the town adding almost 6,000 jobs in the last four years.  However, by most measures, such as per capita Sales Tax Revenue, Flower Mound has been far, far behind our neighboring communities and continues to be so.
The commercial growth we have seen in the last several years seems significant because the base we were starting from was fairly low.  For many years Flower Mound has had an unbalanced Tax Base which has the potential to put too much strain on the property taxes of homeowners.  An unbalanced Tax Base also makes it difficult to finance the amenities our residents desire and puts us at a disadvantage to maintain competitive wages for town employees.  We have closed the gap while adding options such as the Moviehouse & Eatery.
Additionally, other than the Lakeside Development in the last four years, the council has not approved any new zoning for apartments other than 200 units at Southgate in southern Flower Mound, and that developer recently stated they would be building homes and not apartments.  That is likely how should be.  A proliferation of apartments is not what is in the best long-term interest for Flower Mound and it is difficult to see where there would be a reason to add substantially more units with a couple of exceptions. One is our seniors that continue to seek rental housing options such as senior living communities.  If a location could be found that would make sense for our parents it should be seriously considered.
However, our focus needs to continue to be on job growth which supports businesses within our town. Our attention should continue to be on ensuring the Riverwalk and Lakeside developments evolve into what was presented to our residents and what we all believed in when they were approved.