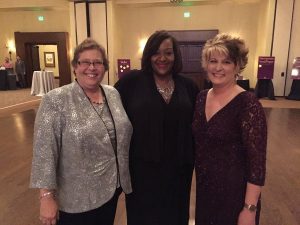 The Denton County Friends of the Family (DCFoF ) is the domestic violence and sexual assault agency that serves Denton County. All DCFoF services provided to victims and survivors are free of charge, which means the $40,000 grant from The Rees-Jones Foundation will go a long way to help the many people in need.
In addition to its emergency shelter (at capacity 11-months out of the year), it also provides adult and child counseling to traumatized victims, offers legal advocacy and has a lawyer on staff to aid its clients obtaining protective orders. A community education team focused on the prevention of these violent crimes.
DCFOF also has a Sexual Assault Advocacy Team (SAAT), a Violence Intervention and Prevention Program (VIPP), a thrift store, and a 24-hour crisis line.
"The Rees-Jones Foundation has a mission that fits in perfectly with ours at DCFoF," said Toni Johnson-Simpson, executive director of DCFoF. "We want not only to help victims and survivors of abuse after the violence has happened, but we also strive to break the cycle of abuse through counseling and preventative education.
Simply showing an abused child that someone cares can make a big difference.
In addition to its 2016 grant, The Rees-Jones Foundation donated $2,250 to buy Christmas presents for all of the children in the DCFoF shelter.
"Our staff and clients are all grateful for the Foundation's support, and we look forward to making a difference in our community together in the upcoming year," said Johnson-Simpson.
 About the Rees-Jones Foundation
The Rees-Jones Foundation mission is to serve God by serving others. It offers grants in the areas of: human services for children, youth, and families; youth development; mental health; and community benefit.