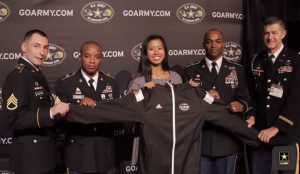 Rachel Chow, captain of the Flower Mound High School color guard, will be performing at halftime during this Saturday's U.S. Army All-American Bowl at the Alamodome in San Antonio.
Rachel has been an officer of the color guard since her junior year and a member of the Varsity Scholastic Open Winter Guard since she was a freshman.
Rachel plays the piano and the violin, and is a brown belt in martial arts. She is a member of the National Honor Society and volunteers at the Flower Mound Public Library and at a local rehabilitation center for senior citizens.
Now in its eighth year, the U.S. Army All-American Marching Band features 125 of the finest high school senior marching musicians and color guard members from across the country.
The U.S. Army All-American Marching Band recognizes the nation's leading high school band members.
These young men and women demonstrate the U.S. Army core values of Loyalty, Duty, Respect, Selfless Service, Honesty, Integrity and Personal Courage in their everyday lives.
Like the U.S. Army All-American football players, the national selection of All-American band members is based on a broad range of attributes that go beyond performance and include qualities such as academic achievement, leadership abilities and community service.