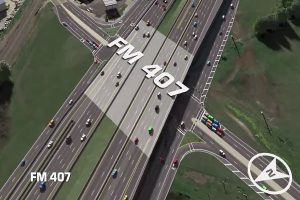 After several months of patiently waiting, motorists will now be able to use FM 407 to travel across Interstate 35E.
35Express crews will open two lanes of FM 407 (one lane in each direction) by 6 p.m., Thursday, Dec. 31.
The entire FM 407 intersection is expected to open summer 2016.
"The reconstruction of FM 407 has been one of the top transportation priorities in Denton County," said Denton County Commissioner Bobbie Mitchell. "We are excited to have connectivity restored at one the busiest intersections in the county."
The new FM 407 intersection will include two Texas U-turn lanes on each end, two traffic lanes in each direction and dedicated turn lanes in each direction. The new configuration will fully open summer 2016.
"The 35Express project is extremely important to Lewisville, and the interchange at FM 407 is a key piece of that project for many of our residents," said City of Lewisville Mayor Rudy Durham. "We're pleased to see work progressing quickly and look forward to full completion."
The existing FM 407 bridge was partially demolished in May 2015 as crews began work to turn the bridge into an at-grade roadway. The remaining portion of the bridge was demolished in late 2015.
The reconstruction of FM 407 is a part of the 35Express Project, an expansion of I-35E from U.S. Highway 380 in Denton to I-635 in Dallas. The 35Express Project is scheduled to be substantially complete in mid-2017.
For more information about the 35Express Project, please visit www.35Express.org or call 214-483-7777.