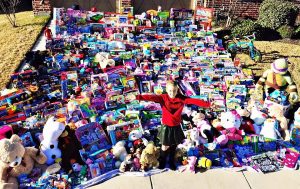 A casual conversation with her oncologist about whether Santa comes to the hospital to leave gifts for kids fighting cancer sparked an idea for Sadie Keller of Lantana to host a toy drive.
Her original goal was to collect 300 toys. Through the generosity of the community, she ended up with 1,276 toys.
Sadie, 8, is in the middle of her own treatment for Childhood Acute Lymphoblastic Leukemia and that road has been bumpy, but she continues every week to bring happiness to someone else. This time it will be the over 60 families who are scared and anxious every day while their child fights cancer. 
It's scary enough to go through this fight, but these families will be in the hospital on Christmas Day because their child has cancer, or has caught an illness or an infection.
"Those are very, very scary times that we have experienced and could experience again at any time," said Sarah Keller, Sadie's mother. "Sadie understands all of this and can't wait to make her delivery later today."
Read more about Sadie here.