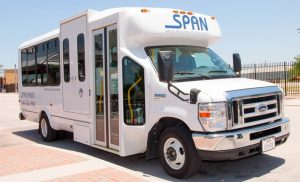 Span Transit of Denton County has received a $20,000 grant from the Texas Veterans Commission Fund for Veterans' Assistance to continue transportation service for Denton County veterans to the VA Medical Center in Dallas.
Span is a nonprofit rural transit district serving Denton County seniors, veterans, people with disabilities and the general public with transportation enabling people to live as fully and independently as possible.
In addition to transit service by appointment in the rural areas and some cities in Denton County, Span has for many years provided free shuttle service for veterans to the VA hospitals in Dallas and Fort Worth.
The Texas Veterans Commission grant will be used to continue midday bus service to and from Dallas.
With the support of the Denton County Commissioners Court, Span has provided transportation to the Dallas VA Medical Center early in the morning and returning late in the afternoon for county veterans.  The added midday trip allows veterans traveling to Dallas to accomplish their medical appointments without waiting up to eight hours for a return bus.
"Without midday service down and back from Dallas, veterans traveling to medical appointments at the Dallas VA hospital are subjected to an extremely long day," said Deb Robertson, Span's executive director.
"The ability to travel midday for an afternoon appointment or return from a morning appointment makes our service much more convenient for veterans seeking treatment."
For more information on Span or how you can support its community efforts, please visit www.spantransit.org or call 940-382-1900.