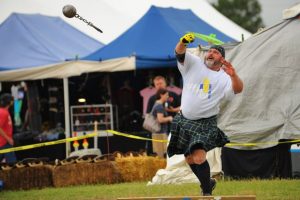 The Scottish Highland Games have become popular here in the states with more powerlifters, strongman, ex-track and field, and strength athletes flocking to it.
The Games are steeped in the rich cultural history of Scotland. The festival showcases athletic events, playing of bagpipes and Scottish dancing. The popularity of the TV series, "Outlander," has helped increase the popularity of anything Scottish.
The Games also feature some of the most strenuous tests of strength and endurance. Scottish Heavy Athletics is the world's second oldest, purely-unchanged sport, pre-dated only by Sumo wrestling. Roughly 1500 years ago, Scots began gathering at harvest fairs and began competing in various sporting events. The fastest men became messengers for the local clan chief, while the strongest entered the Chief's guard.
One Argyle businessman, Bob Kneip, competes in the games regularly and with good results.
"There is something raw and real about it and at full festivals when the bagpipes start to play, and your standing on the field of competition with 40 to 60 other 'men's men' in kilts, it's like you are taken back a few centuries to a time long ago in a land far away," said Kneip. "Makes you get goose bumps and your hair stand up."
He recently competed in the Texas Celtic Athletic Association (TCAA) Celtobar Throwdown where he won all eight of his events and finished first overall in the Masters Division 50+ up, helping his standing in the Scottish Games League (SGL) overall.
"This increased my lead in the SGL Regional Competition by another point, and I now lead the next closest competitor by eight points with two events remaining," Kneip said. "I just need to stay healthy, show up and throw decent[ly] to wrap this up."
Kneip competed in the two events which took place on Nov. 7 in Austin, where he took First Place Masters Division 40+.
At the 54th Salado Gathering of the Clans on Nov. 14, he claimed First Place in the Masters Division 40+ and Athlete of the Day. His name plaque will be placed on the base of the trophy at the Scot Shop in the Central Texas Museum in Salado. His picture will be alongside it until next year's award is given. He was awarded the Scottish Games League Regional (TACS) Masters Championship Trophy and will compete in Albuquerque at the National Championships in 2016.
Kneip's son, EJ, who has Downs Syndrome, competed with his father at the Celtobar Throwdown prior to the events in Austin and Salado. He finished third in his division and received the Spirit of the Celtic Warrior Award as voted by his peers and fellow competitors.
Kneip said that family involvement and support has proved to be very important to him when it comes to the Highland games.
"Family is so important in our house," Kneip said. "We are a big family and we exist successfully in our community, because we are cohesive and tight in our home."
He said without the support of his wife and kids, he wouldn't be able to find the time to train, go to the competitions, or take-off the time he needs to focus on his competitions.
"They put up with my training schedule and cover the business when I'm on the road," said Kneip. "My wife supports my every move, as well as put her nursing skills to good use very often to help me through the aches, pains and injuries associated with this sport."
Events in the Highland Games include such things as Open Stone (16 lb), Braemar Stone (22 lb), Weight Throw (42 lb), Weight Throw (28 lb), Heavy Hammer (22 lb), Light Hammer (16 lb), Caber Toss and Sheaf Toss (16 lb).
Kneip's personal records are: Bench Press, 350-lbs; Deadlift, 550 lbs.; Overhead Press, 300 lbs.; and Box Squat, 500 lbs.
"I love the competition and to be able to do as well as I do at my age," Kneip said. "However it's the fact that my family proudly stands alongside me on this journey that drives me and makes it so satisfying."