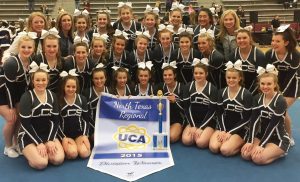 The back-to-back State Champion Liberty Christian cheer squad took first place in the Super Varsity Division of the Universal Cheerleaders Association (UCA ) competition last Saturday, qualifying them to compete at the National High School Cheerleading Championship in February at Walt Disney World.
"This win is a great testament to our girls' hard work and dedication to our program," said Coach Stephanie Jones. "We are so proud of their accomplishments, how they come together as a team, and their heart for the Lord.
The team contended against other high schools in North Texas at the UCA competition that was held at Lewisville High School on Dec. 5.