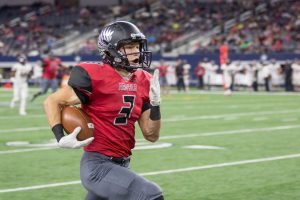 Argyle defeated Texarkana Liberty-Eylau by a score of 32-29 last week to advance to the state semifinals and will face Abilene Wylie in a rematch from week one, a game the Eagles won by a score of 20-10.
The game will be played at 7:30 p.m. on Friday at Waco's McLane Stadium.
Argyle scored in all three phases of last Friday's game against Liberty-Eylau in the first half, with Dane Ledford scoring on a four-yard run, Caleb Holt kicked a 28-yard field goal and the defense came up with a safety.
In spite of the scoring, Argyle still trailed 17-12 heading into half time.
Liberty-Eylau extended its lead to 9 points to start the third, before Argyle scored 20 unanswered points.
Taylor Sweatt scored on a 12-yard run, followed by a 39-yard field goal from Holt to regain the lead for the Eagles.
Ledford then connected with Drew Estrada on a 58-yard touchdown pass, and Argyle led 29-21 heading into the fourth quarter.
Holt drilled a 41-yard field goal with 7:36 left to play in the fourth, and even though Liberty scored another touchdown, Argyle held on for the victory.
Estrada finished the game with 115 yards receiving and a touchdown.
Wylie defeated Brownwood 14-7 last week in the state quarterfinals to advance to the state semis. The Bulldogs Tyler Ward rushed for 115 yards and a touchdown last week against Brownwood and will be the player to stop for Argyle.