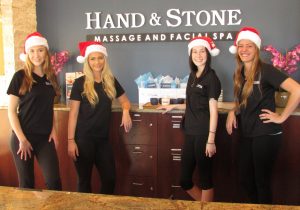 Do you ever wonder why certain smells can trigger a good memory or a positive emotion?  Think about what scents remind you of the holiday season.  Does the smell of apple cider brewing in the kitchen, turkey in the oven, or freshly baked cookies and pies make you feel warm and fuzzy for the holidays?
You can thank your brain for that!  The olfactory bulb, a neural structure involved with olfaction (sense of smell) interacts with both the amygdala, which is responsible for associative learning to trigger a response to smell.
In addition to the scents of the season, aromatherapy is another way that our brain associates scents with a response such as stress relief and relaxation.  As the name suggests, aroma means scent and therapy means treatment.  It is often used to improve your health and general well-being.  Aromatherapy has increased in popularity recently, but has been around for over two thousand years.
At Hand & Stone, we offer three aromatherapy scents:  Eucalyptus, Lavender and Peppermint.  Our peppermint aromatherapy with its light, re-freshing and clear minty aroma is the perfect addition to your massage service.
The holidays tend to add mounds of items to our "To Do List" making us even more busy and exhausted than usual.  Luckily, peppermint aromatherapy can refresh and awaken the senses for increased mental alertness.
Additionally, if you're looking to relieve sinus problems, congestion, joint and muscle pain or mental fatigue ask for Eucalyptus.
Or, if you are simply looking to relieve stress and anxiety, Lavender is the best for its calming and relaxing effects.
We, at Hand & Stone in Flower Mound, wish you a very Merry Christmas and hope you remember us for any holiday gift needs and to de-stress yourself.   Tis' the Season!
Hand and Stone is located at 3501 Long Prairie Rd on the corner of FM 2499 and Churchill in Flower Mound.   We can be reached at 972-355-3939 or online: handandstone.com.