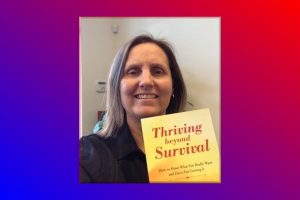 Drawing on her background in science research, emotional intelligence and extensive corporate learning and development experience, Mindful Games Institute CEO and founder Martha Germann of Lewisville cracks open the door to thriving in her inaugural book "Thriving beyond Survival: How to Know What You Really Want and Have Fun Getting It."
Her book presents information on how to thrive in the workplace in 2016 by overcoming office politics and setting up new ways to tackle the stress of overwhelming deadlines, diminishing resources and the ongoing internal battles that result. The book showcases new tools and skills focused on thriving.
Readers will understand how they use drama as a primary go-to coping mechanism that leaves them battling negative emotions and low self-worth, resulting in mistakes and distractions.
"Thriving beyond Survival" then teaches readers a new and applicable model to achieve peace at work and at home and thrive in their day-to-day, according to a press release from the publisher.
Germann, who is director of The Tutoring Center in Flower Mound and also a drummer for the DFW band Merry and the Mood Swings, guides readers to a new rhythm that creates new choices.
A book launch celebration will be held this Saturday, Dec. 5, from 2 to 4 p.m. at Wise Advantage Real Estate – Keller Williams Realty, 2960 Long Prairie Road, in Flower Mound.