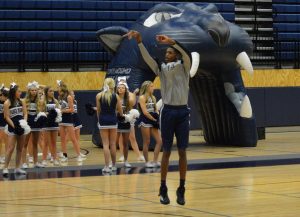 As the season draws to a close for many of the football teams around the state, the boys and girls of the hardwood are gearing up for what promises to be another exciting year of basketball for southern Denton County.
With several postseason runs among area teams last season and a strong crop of returning talent, local roundball fans should have a lot to cheer about this winter.

For the Guyer boys basketball team, last season was definitely a success, as the Wildcats finished 25-11 and were Co-District Champions.
Coach Grant Long said that he is optimistic about his team's chances of repeating on the success it enjoyed last season.
"We are excited to continue the playoff tradition we have established here at Guyer," Long said. "We have two of our leading scorers returning, with some very talented young players joining the mix. We could start one, possibly two very talented freshmen."
Long said that he has a number of players he expects to lead the way for the Wildcats this season.
"Our leaders have learned from our past players and will set the tone every day in practice," Long said. "Zach Garza, Jake Roberts, and Luke Helgesen are great leaders on and off the court for us this year.  Zach was 1st team All-District Last year averaging around 14 points per game and Jake averaged around 8 points as a sophomore starter.  Luke is that do everything type guy."
Guyer finished 11-3 in district last season and advanced to the area round of the playoffs.
Long anticipates Keller being Guyer's toughest district opponent this season.
In Flower Mound, the Jaguars just missed the postseason in 2014-15, finishing 8-8 in district competition and losing a play-in game to Plano East.
Coach Eric Littleton said that while he did graduate a lot of players from last year's team, he does feel confident his team will be strong.
"Our kids continue to work hard," Littleton said. "We graduated 12 players from last year's team— over 97 percent of all of our scoring, rebounding and assists, so we need some kids to step up and play well."
Isaiah Brown and Christian Edmondson are returning seniors and the players Littleton expects to lead the way this season.
Flower Mound finished 18-14 last season, and Littleton said, that the goal is to "find a way to make the playoffs" this season. "We need a lot of new faces to step up and play well," Littleton said.
A trip to the postseason has become par for the course for the Marcus basketball squad, and 2014-15 was certainly no different.
The Marauders finished 8-8 in district competition to claim the fourth and final playoff spot in a tough district 6-6A, which includes state champion Plano West.
First team all-district selection Brandon Smithey should lead the way for the Marauders this season, with 11 points, 5.3 rebounds and 13 assists per game last season.
Marcus advanced to the postseason by beating Hebron and Plano East in two tie-breaking games, and lost to Guyer in the opening round of the playoffs.
Plano West, Allen, and Plano East should present the biggest challenge to the Marauders this coming season.
The Argyle boys are coming off of a strong season in 2014 in which they went undefeated in district competition and advanced three rounds into the postseason.
The Eagles defeated Irving North Hills and Wilmer-Hutchins before losing to Triple A Academy in the regional quarterfinals.
Argyle will return last season's district Newcomer of the Year in David Davis.
Look for JC Chalk, Nathan Priddy and Dane Ledford to help lead the way for the Eagles in 2016, as well, and expect Aubrey, Celina and Sanger to be among the teams to beat.
Down the road at Liberty Christian, the Warriors are looking to rebound from a disappointing 2014-15 campaign, in which they went 3-11 in district competition and finished seventh in the TAPPS 1-5A competition.
Liberty is still working to recapture the success of the 2013 season, when they went 32-7 for the season and advanced three rounds into the playoffs.
The Warriors should be led by guard Jacob Link, an all-district selection from last school year, and guard Grant Quinn.
Last year's state champion Plano Prestonwood and Trinity Christian should be the two teams to beat this year in the district.