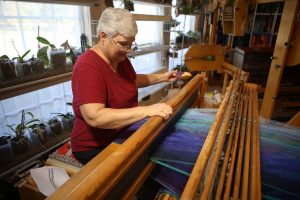 Due to lack of experience with the traditional women's chore of spinning yarn, Sleeping Beauty fumbled and got poked by a sharp spindle.  She fell into a coma that only Prince Charming's smooch could send into retreat.  Maybe the girl would have been safer sitting at a loom, but Double Oak resident Gloria Haefner-Gatti said, "Until quite recent times, weaving was men's work controlled by guilds."
The Gatti kitchen has a dramatic floor-to-ceiling glass wall, and behind it sit four impressive looms, and several shelves of orchids.  "The flowers like the microclimate in here," Gloria said.
So does her husband Richard who is a "production weaver."  In his free time her companion goes in for creating practical items like dishtowels, scarves, teapot cozies, and the occasional shawl.
"Other than our son, our baby is a jack loom which makes fabric about 27 inches wide."  She pointed to its next door neighbor.  "Big brother over here is a wider jack."
The wood siblings look like a pair of strange church organs.  Each has a built-in bench for the operator, and an array of foot pedals that lift and lower 4-8 empty picture frames called shafts that hang like Pendaflex file folders perpendicular to the floor.  Each shaft contains one row of tightly strung parallel wires with a neat little eyehole twisted midway down.  Long taut yarns parallel with the floor pass through the wire eyes while tied to two crossbeams that form the fore and aft parts of the loom.  A hollow rectangle of wood, the bullet-like shuttle houses a bobbin of yarn.  Given a shove it rips along a track over and under the long yarns, then a big comb gizmo that used to be called "the weaver's sword," pushes the woven threads together nice and tight.
Twenty-eight fate-filled years ago Gloria bought a weaving magazine subscription.  The basics captured her imagination, and from time to time she strolled around weaving stores in New Jersey where the family lived.
"The baby jack loom was a birthday present from my husband."
What attracted her to weaving?  "I like math.  I like order.  I like sequences."  She waxes eloquent on the topic of the math Fibonacci Sequence which makes increasing or decreasing the size of a design predictable.  Ever heard of it?  Here's a quick digression.
In the early 1200s an Italian math nut, Leonardo of Pisa, convinced Europeans to drop Roman numerals in favor the 0-9 Arabic characters.  That was a great idea.  He also penned the definitive book about using the 13th century's calculator, the abacus.
Did you hate arithmetic word problems?  His most famous word problem began "A certain man put a pair of rabbits in a place surrounded on all sides by a wall."  For the next year the bunnies reproduced sequentially.  That means 1+1=2 and 1+2= 3 and 2+3=5 and so on.  End of digression.
It turns out Mother Nature and master weavers are positively drunken on Leonardo's "fibonacci" numbers as they create repeating designs of this and that.
The Mama-size weaver's dream in Gloria's Lake Trail Studio, the honky-tonk of the weaving world, is called a dobby loom.  "The player piano is the idea behind it.  You know, 2 foot pedals that control, in this case, narrow strips of wood that allow only yarns to be used that weave a simple, geometric, repeating pattern."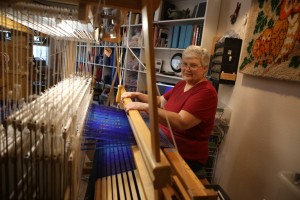 The Papa-sized loom nearest the glass wall fills about half the room, and is controlled by a computer program called Weavepoint.  The massive wood structure has one foot pedal like the treadle on grandma's old mechanical sewing machine, 24 of those wired Pendaflex-looking picture frames, and a flying shuttle that does exactly that with a big clap of noise.
As Gloria explored weaving, the Hand Weavers Guild of America (HGA) whispered sweet nothings and crooked a finger in her direction.  She decided to become a Master Weaver.  "That took six years.  I had to produce good samples of all kinds of weaves.  That meant nice looking work, no holes or snags or errors.  It takes time to learn."
Now she is a guild member, and also belongs to the Dallas Hand Weavers and Spinners Guild, and Contemporary Hand Weavers of Texas which includes smaller guilds in the Metroplex, San Antonio, and Austin.  There are 30 HGA certified Master Weavers in the DFW area.
Inexpensive woven ready-to-wear clothing is created from plain or tabby weave like those rec center jersey loop potholders kids have been making since rec centers were invented.  The pattern is: over 1, under 1.  Vary the thickness of finer yarns in either direction, and you might get a crisp taffeta or a poplin potholder, but that would cost more than jersey loops.
Tapestry is an unproportional tabby, say, over 1, under 6 then something different down the line and in the next row up as well, all done in technicolor to produce a fancy pattern or picture.  Think Gobleins that sell for thousands at Christie's and Sotheby's auction houses.
"Weavers become specialists is a particular type of fabric," Gloria said.
Some clever potholder kids discovered they could create a diagonal look, a twill weave which is: over 2, under 1.  Twill is a flexible and extremely popular kind of fabric created in many weights and textures.  Jeans denim is a twill fabric invented in India.  The material drapes over anything in its path.  Well, maybe denim twill made into jeans doesn't drape until it's plenty worn.
"Twill is my weave choice."  To prove the point, she has a lovely designer quality wool cape of Shetland wool in variegated tan and beige yarns from New Zealand.  She wove the dramatic yardage, and her mother-in-law, a former seamstress at Saks Fifth Avenue, did the garment design and construction.  "I am not a sewer," Gloria said.  "As a rule I don't make yardage either, but from time to time I fill a custom order."
Hand woven fabrics are not for the financially faint-of-heart.  "A dish towel," she said, "of 100% Pima cotton, which is fabulous stuff that lasts forever, runs just under $30."  Some Lake Trail Studio customers collect them.
A loom is not like a box of crochet hooks or knitting needles, but a sizable investment.  "Small jack looms run about $500 each, and the price goes up with the linear feet of wood used."  A big loom can cost upwards of $10,000.  "People shop for looms at shows and in weaving shops.  They are manufactured all over the world so these days we can also shop online."
Anything that can be twisted or stretched into a fiber is fair game for a weaver.  "Natural yarns include animal wools and silks, and plant products like cotton, jute, flax, and bamboo."  People in high rent neighborhoods might order custom made fabric with metallic fibers from gold and silver.  Remember how medieval lords and ladies paraded around in "cloth of gold?"  That wasn't a figurative expression, and it took a prince's ransom to dress in the stuff.
Fortunately for the middle class that came into existence after the 14th century, the recent development of synthetic fibers and power looms has greatly reduced the cost of fabric.  Cool duds are a lot less expensive than in the good old days.  To wit, the overstuffed closets and dressers of modern America's middle class families.
If your personal rule of thumb goes something like, "If I haven't worn it in a year I get rid of it," you probably don't own hand woven garments which cost more than a mouthful of dental crowns.
Not surprisingly Gloria is intrigued by art, and possesses no small talent in that arena.  "Dimension, texture, and color are the ways nature describes itself, and this is true in weaving."
Depending on how a cloth is woven its yarns can shimmer with movement.  "Velvets not only shimmer, they have depth because of piled weaving which is formed by looped yarns the weaver eventually cuts.  Corduroy is striped pile weaving.  Carpets and rugs are bits of yarn knotted at the yarn intersections of a woven base cloth."
Gloria had to produce samples of it all to become a Master Weaver, and the works adorn walls in her home.  She painted one particularly magnificent cape with a design of long legged cranes standing in a marsh—perhaps waiting to nab a fish?  The silky garment is reminiscent of a Chinese water color painting.  The word exquisite comes to mind.  Weavers have been decorating textiles with paints as far back as there are samples of the craft in existence.
Another stunning creation hangs in her office.  The cloth looks like a Monet water lilies painting from the Orangerie Museum in Paris.  Gloria wove in a delicate pair of fish playing hide-and-seek under a lily pad and the rippled surface of a pond.
She takes on weaving students, but as apprentices who learn by assisting with her projects.  "It's easy to give people how-to explanations of how to weave, but really, hands-on is the best way to develop knowledge and skills."
She belongs to southern Denton County's own Cross Timbers Artists Guild, and opened her home for the 14th annual studio tour November 7-8.  The Double Oak studio phone number is 817-430-1341.  The website is www.LakeTrailStudio.com.