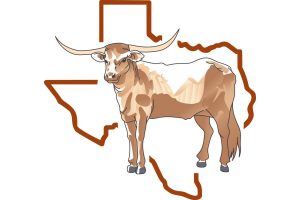 It's been many years since we've been to the Texas State Fair.  Last time we took some friends from out of town and walked around throughout the grounds.  We stopped at all of the booths offering fried whatevers for our sweet tooth.  We came home stuffed and pooped.
This year, once again, we took some out-of-towners along with us and told them that tasting fried food was an absolute must.  This trip we hardly scratched the surface of all there was to do and see.  You simply can't imagine the vast variety.  I think the hot temps had an impact on the duration of our stay.  It was pretty toasty and we sought out the shade.  The overhead cable car ride kinda looked like fun so we took a ride on it to get out of the sun.  The person taking tickets said it would be cool inside but that excluded air-conditioning so we were unpleasantly surprised.
Our guests had been bragging about their own state fair but later admitted that Raleigh's didn't compare.  They couldn't get over how big everything in Texas had proven to be.  And we all found it neat that senior citizens get in free!  They thought the claims about the sizes in Texas were all a myth until looking down from the cable lift.
They'd never heard of our BIG TEX but after seeing this new one were duly impressed.  Picture taking time was a joke due to all of the attending folks.  They'd stroll right in front of our cameras ~ (corn dog in hand) they had absolutely no manners.  And trying to take a pic of TEX from his boots up to his nose, you might get half but no way the whole.  The bright sun shining from every direction caused the photo to be full of glare and reflection.
Sitting below him on a bench made of stone, I jumped about a foot when he said in a very loud tone, "Howdy Folks, Welcome to the Fair!"  OMG…he really gave me a scare!  One favorite part of what we did and we saw was the free tasters they offered for us to gnaw.  One pecan glazed in cinnamon was just a tease as I went back for more; the vendor was pleased.
There were lots of tents to wander through, kiosks galore and some petting zoos.  We ducked inside a tent or eight and found some wares that weren't so great.  While quality wasn't up to snuff the quantity was more than enough.
By afternoon we'd had our fill and rode a train of sorts to our vehicle.  It took us quite a while to get back to our place but we all agreed the day was certainly no waste.  The next day we planned a different tour, another taste of Texas our friends hadn't seen before.
Ft. Worth is really a famous place, with Billy Bob's and the cattle race.  Well, to call the cattle run a race would be a joke, they don't make haste.  With no yokes in place the 18 steer mosey along while the crowd steers clear.  The entire event is less than three minutes long, make sure you don't blink 'cause they quickly are gone.
During the day we found Billy Bob's dark and empty.  There were no crowds, no bands, but dance floors aplenty.  The smell of stale cigs hung heavy throughout but the ticket taker told us a change was to come about.  At long, long last a law had been passed to outlaw all smoking except for out back.  This dude had more info than we could absorb 'bout the history, the finances and all of the stars.  We peeked at the bull ring where riders held on to wild horses and angry long horns.
Outside are these train tracks that carry tourists from Grapevine to Ft. Worth, but only on weekends do they go back and forth. Our friends shopped the stores on both sides of the tracks looking for bargains and mementoes to take back.
In one of the shops you could buy Ben and Jerry's so both of the guys decided to tarry.  It wasn't the ice cream they wanted so much but rather to stare at the store's buxom sale's lass.  It took them forever to devour a cone as they ogled this cowgirl who was Texas homegrown.
One of the evenings we ate dinner out, just had to show them what Tex-Mex was about.  We all enjoyed a hearty meal of fajitas, fried beans and rice, the food was great and priced just right.
Our companions had nothing but good things to say about all we did during their stay.  If they'd stayed just a few days more, a good old-fashioned rodeo was in store.
A very important point I forgot to make is how long it had been since we'd seen Mary and Frank.  The answer to that is more than thirty years, though we gals sent out emails when there was good news to share.  And in "total honesty" we had to admit that even after all those years…none of us had changed a bit!
Read Cindy's column each month in The Cross Timbers Gazette newspaper.