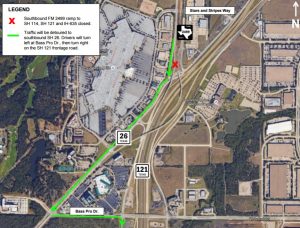 UPDATE: The FM 2499 closure has been postponed until after the New Year.
ORIGINAL ARTICLE: Here's a traffic alert for those heading south to Grapevine or DFW Airport this weekend.
Starting Friday (Nov. 20) at 8 p.m. through 6 a.m. on Monday, all southbound lanes of FM 2499 will be closed at Hwy 121 as crews conduct paving work related to the DFW Connector project.
Motorists will be rerouted to Hwy 26, then to Bass Pro Drive and back to Hwy 121.
This closure was postponed from last weekend due to rain.
For more information on the DFW Connector project, or to sign up for email alerts about the progress of the project, visit the DFW Connector Project website.