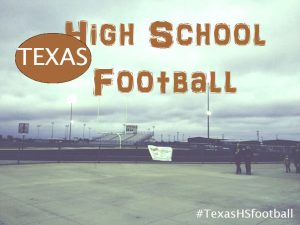 The playoffs are here, and four area teams are looking to extend their seasons this week.
Argyle opens postseason against Lake Worth
Argyle claimed a district championship with its 66-27 victory over Sanger last week and now has its sights set on a bi-district matchup with Lake Worth.
Gage McCook scored four touchdowns in the rout last week, while quarterback Dane Ledford passed for 274 yards and two touchdowns and rushed for two more.
The biggest challenge for the Eagles will be stopping Lake Worth quarterback Monta Kimble, who has combined for 1,826 yards and 18 touchdowns.
Other than that, the Bullfrogs (4-6, 2-3 district) should not present that much of an obstacle for Argyle (9-1, 5-0 district).
The game will be played tonight at 7 p.m. at the Birdville Fine Arts and Athletic Complex in Haltom City.
Marcus hosts Keller Fossil Ridge
Marcus (9-1, 7-1 district) will face off against Keller Fossil Ridge (5-5, 4-3 district) on Friday at 7:30 p.m. at Marauder Stadium in the 6A Division II bi-district round of the playoffs.
Marcus wrapped up the regular season with a 34-31 victory over Plano, in which Mitch Cason led the way with 368 yards and three touchdowns
The Marauders will have to slow the running attack of Fossil Ridge running back Anthony Smith, who has rushed for 1,157 yards and 12 touchdowns to give themselves the best chance at victory.
Guyer looks to knock off Hebron
The Wildcats (7-3, 5-2 district) will open their eighth consecutive postseason run at 7:30 p.m. Friday against Hebron (4-6, 4-4 district) at University of North Texas' Apogee Stadium in Denton.
Guyer has been averaging 35.5 points per game compared to Hebron's 24 points per game, and after dropping its season finale to Ryan by a score of 31-28, is looking to rebound with a playoff victory.
Shawn Robinson (2,234 all-purpose yards, 20 touchdowns) is back in full force, as Guyer will try to slow Hebron quarterback Clayton Tune, who has passed for 1,500 yards and 18 touchdowns.
Liberty Christian prepares for district foe
The Warriors will begin their playoff run on Saturday against FW Nolan in a repeat of their week four matchup, a game that Liberty won 20-0.
Liberty defeated John Paul II by a score of 50-8 in their regular season finale to capture the third playoff spot last week.
Nick Starkel passed for 503 yards and five touchdowns in the game to lead the way for the Warriors.
Nolan quarterback Jacob Walden passed for 1,100 yards and six touchdowns and Rory Mitchell rushed for 663 yards and eight touchdowns.