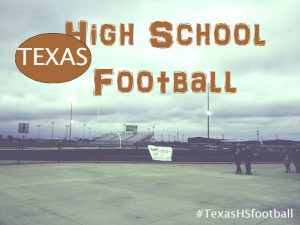 Clash of the titans set in Argyle
The battle of the two district unbeatens will commence at 7:30 p.m. tonight in Argyle, as the Eagles get set to host Sanger in the regular season finale.
Both programs are 5-0 in district competition heading into the game, and Argyle is coming off of a 70-0 victory against Dallas Pinkston.
Quarterback Dane Ledford passed for three touchdowns in the game and running back Taylor Sweatt rushed for two touchdowns.
Colton Ligget with a 21-yard interception return for a touchdown and a fumble recovery in the endzone for a touchdown for the Eagles.
Argyle will have to slow Sanger quarterback CJ Jackson, who has passed for nearly 1,100 yards and 12 touchdowns to get the victory.
Robinson back, Guyer attempts to dethrone Ryan
Shawn Robinson was back in the lineup last week for Guyer, and the scoreboard showed it, as the Wildcats defeated Keller Timber Creek by a score of 52-14 in Keller.
Robinson combined for 326 yards of total offense and two touchdowns, and Noah Cain rushed for 175 yards and two touchdowns for Guyer.
The Wildcats will attempt to knock off undefeated Denton Ryan from the top spot in the district standings.
Spencer Sanders (1,375 yards, 14 touchdowns) is the player to watch for Ryan in the game that will begin at 7 p.m. tonight at the C.H. Collins Athletic Complex.
Flower Mound looks to finish out strong
Flower Mound will look to finish out the season on a high note at 7:30 p.m. tonight at Clark Stadium in Plano when they take on Plano West.
The Jaguars will attempt to halt a five game losing streak against a West team that has its last four games in a row.
Noble Newton, who has combined for more than 2,500 yards and 17 touchdowns this season will be the key for the Jags, and Logan Williams, who has passed for 1,372 yards and 13 touchdowns needs to be contained.
Liberty Christian playing for playoffs
The Warriors are looking to rebound from their third straight loss tonight as they take on John Paul II in Argyle.
Liberty lost 48-7 to Plano Prestonwood last week and needs this victory to put itself in a situation to get into the post-season, as Liberty, Bishop Lynch and FW Nolan are all tied at 3-3 in district for the last two playoff spots.
The biggest threat John Paul II poses to the Warriors is quarterback Andrew Haidet, who passed for 215 yards and a touchdown in last week's loss to FW Nolan.
Marcus off this week
Marcus has a bye week and will host Keller Fossil Ridge at 7:30 p.m. on Friday, Nov. 13, at Marauder Stadium in a University Interscholastic League Class 6A Division II bi-district playoff game.