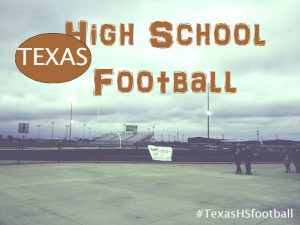 The threat of heavy rain on Friday has caused the rescheduling of area high school football games to Thursday night. Here are the matchups:
Argyle looks to make it six in a row
The Eagles will look to make six straight wins tonight as they prepare to take on Dallas Pinkston at 7 p.m. at Wilmer-Hutchins Stadium.
Argyle defeated Dallas Carter 49-21 last week on the strength of a stout running game from Taylor Sweatt (103 yards, 3 touchdowns) and Gage McCook (69 yards, 2 touchdowns).
Argyle led 49-0 at halftime against Carter and the Eagles defense held the Cowboys to 251 yards of total offense.
The Eagles should not have much to worry about from Pinkston, who has failed to score in its last three games, but should keep an eye on quarterback Wayne Perry.
Marcus ends regular season
The Marauders will wrap up the regular season at 7 p.m. tonight when they host Plano High School.
Marcus defeated McKinney Boyd by a score of 31-9 last week as Nate Hopkins rushed for 142 yards and two touchdowns and CJ Respass rushed for 113 yards and a touchdown for the Marauders.
Marcus will need to stop running back Brandon Stephens, who has rushed for 920 yards and nine touchdowns this season to eliminate the Wildcats biggest threat.
Guyer needs win to stay in title hunt
 The Wildcats will need a victory against Keller Timber Creek tonight if they want to stay in the hunt for a district championship.
The game will be played at 7 p.m. at the Keller ISD Athletic Complex.
A game winning field goal with three seconds to play in the game from Bryson Casmir was the difference last week for the Wildcats, who defeated Byron Nelson by a score of 12-10.
Luke Stillwell combined for 261 yards of total offense at quarterback for Guyer last week to lead the way for the Wildcats.
Guyer will have to contain the running game of Braxton Washington, who rushed for 152 yards and two touchdowns.
Liberty tries to get back on track
 Liberty will try to rebound from a loss last week to Trinity Christian-Addison when it takes on Prestonwood Christian at 7 p.m. tonight in Plano.
The Warriors lost by one point to TC-Addison in game where Nick Starkel passed for 232 yards and two touchdowns and Kyleb Howell rushed for two more touchdowns.
Liberty's defense will have to contain quarterback Ryan Cash, who passed for 257 yards and three touchdowns last week in the 25-20 victory over FW Nolan last week.
Jags off this week
Flower Mound has a bye week and will face Plano West in Plano on Friday, Nov. 6, at 7:30 p.m.
Follow us on Twitter for football score updates tonight.