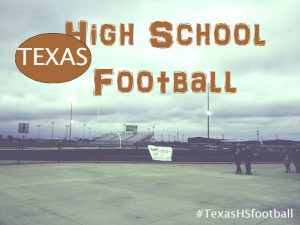 Guyer hopes to shake off upset
Guyer will try to shake off an upset loss to Keller Central last week when they take on Trophy Club Byron Nelson at the Collins Athletic Complex Friday at 11 a.m.
The game was originally scheduled for Friday night but was rescheduled to Thursday evening due to rain. Mother Nature had other plans as storms forced the game to again be rescheduled.
The Wildcats lost to Central by a score of 24-21 even with a 176-yard rushing effort from quarterback Shawn Robinson.
Christian Moore rushed for two touchdowns in the game as well.
Guyer's major objective in the game should be to shut down Nelson quarterback Preston Haire, who passed for 301 yards and four touchdowns against Justin Northwest last week.
Argyle gears up for Dallas Carter
While they are not the juggernaut of "Friday Night Lights" fame, the Carter Cowboys are still a formidable opponent and one that Argyle will look to push further down in the 6-4A Div. I standings on Friday at home.
The Eagles handled Wilmer Hutchins last Friday night by a score of 52-8 to remain unbeaten in district.
Taylor Sweatt rushed for 185 yards and two touchdowns in the game for Argyle, and kicker Caleb Holt drilled three field goals for the Eagles.
Defensively, Gage Campbell came up big with a 56-yard interception return.
Carter is currently third in the district standings right behind Argyle and Sanger, and to get the victory, the Eagles will need to stop quarterback Detron Hall, who threw for two touchdowns and rushed for a third against Dallas Pinkston last week.
Liberty Christian looks to rebound
Liberty Christian lost to Bishop Dunne by a score of 35-14 on Friday and will try to right the ship on Friday at Trinity Christian-Addison.
The game will be played Denton's Apogee Stadium.
Nick Starkel connected with Justus Lee on an 18 yard touchdown pass in the first quarter, and the game was tied at halftime, but a 21-point third quarter for Dunne proved Liberty's undoing.
Kyleb Howell added a rushing touchdown in the game for the Warriors.
Liberty Christian will have to slow the two-pronged running attack of Parker Oliver and Cody Henson, who combined for 330 yards rushing and seven touchdowns last week for TCA.
Flower Mound in for big challenge
Flower Mound will be in for its biggest test of the season on Friday as it prepares to host the Allen Eagles.
The Jags are coming off of a 45-17 loss to Hebron last week as Noble Newton passed for 225 yards and a touchdown.
Flower Mound will have to find an answer for Allen quarterback Seth Green, who passed for 309 yards and five touchdowns and rushed for 113 yards in their last game against Hebron.
Marcus has second test in two weeks
Marcus will gear up for another strong opponent this coming Friday as it prepares to take on McKinney Boyd Friday at 7:30 p.m. at Ron Poe Stadium in McKinney.
They took care of business last week, defeating Plano East by a score of 41-20 in a game where running back CJ Respass rushed for 234 yards and two touchdowns.
The Marauders biggest challenge will be containing Boyd running back Kaeden Markham, who has rushed for 753 yards and 13 touchdowns this season.