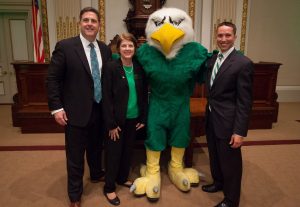 Argyle resident Dave Ragan helped the University of North Texas' financial planning program win a $50,000 grant from TD Ameritrade and was rewarded with a trip to the New York Stock Exchange.
Ragan, an adjunct faculty member in UNT's Department of Finance, Insurance, Real Estate and Law, drafted the winning grant submission and will implement portions of the grant's proposals over the next two years.
To celebrate the honor, TD Ameritrade Institutional flew Ragan, UNT finance department chair Marcia Staff, and mascot Scrappy to the NYSE in July to accept the award and ring the closing bell.