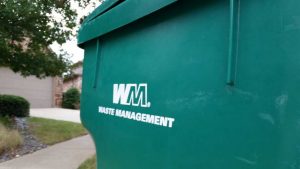 Representatives from Waste Management addressed concerns about service issues at a joint meeting of Lantana's two fresh water supply district boards in September.
Residents have complained of sporadic late or missed garbage and recycling collection for the past several months.
Lance Butler, District Manager at Waste Management (WM), said the problems began in late May, when trash pickup was hindered by flooding that closed their Lewisville facility and landfill.
"It took us about 3 or 4 weeks to overcome that," said Butler.
The problems that occurred more recently were attributed to personnel and staffing issues, which have affected Lantana and other WM municipal customers.
"To be completely honest we've had some accountability issues with our front-line employees. We were being told things were being done that turned out were not done," said Butler. "I have made changes in both our management team and our front-line employees."
Butler said that the changes are paying off. "We've absolutely made progress over the past six weeks. It's going to get it back to where it was."
He added that WM will provide regular performance reports to Lantana General Manager Kevin Mercer to stay accountable.
Lantana has been serviced by WM since the development's inception. Their current contract expires on December 31st.
"We're in the midst of renewal of a contract," said Mercer. "Now is the time when Waste Management should be doing everything they can do to not stump their toe and yet they continue to stump their toe. The question is, how confident is Waste Management that they're going to be able to cure this?"
The new agreement will include a 7-percent increase during the first year– which equates to $1.07 more per household per month– with subsequent yearly increases based on the Consumer Price Index (CPI).
Mercer said that he is negotiating with WM to add penalty language into the new agreement.
"We're building in some reporting and penalty clauses. In the event they do continue to stump their toe then we will benefit from it financially."