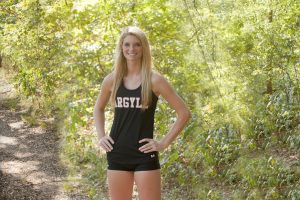 When your big brother is one of the best athletes Argyle High School has ever produced, it could be difficult to follow in those footsteps.
But that is not the case for Madison Ralston, who excels in both cross country and basketball at AHS and is carving out her own niche in the pantheon of Eagles sports standouts.
Cross Country coach Kathi Olson said that Ralston has been a big part of the success the Argyle cross country team has enjoyed over the last few years.
"She has been a top runner every year and this year she is consistently one of the top three on varsity," Olson said. "She is a great person, athlete and teammate supporting her fellow teammates on and off the field."
Ralston tries to bring a couple things to the team that she hopes will lead it to success.
"I try to do my best and motivate others," Ralston said. "Playing basketball takes a lot of time away from cross country, so I try to just do my best to help the team."
The Argyle distance runner did say that cross country helps her in basketball in some ways.
"When I go into basketball season, I am definitely in shape," Ralston said. "Although it is different running outdoors with cross country to running indoors with basketball, it really does help with your stamina."
Ralston said she has been really pleased with what she has seen from the cross country team to this point in the season.
"We lost a bunch of people that have been on varsity, probably since their freshman year," Ralston said. "We are trying to get better from that, and we are improving as the season goes on."
Ralston, who is a wing on the basketball team, said basketball is her first sport, but she really likes cross country as well, and said if the cross country team wants to get back to state this season, it will take hard work.
"We have to push ourselves every day in practice," Ralston said. "We have to keep pushing through and trying to meet our times, because that is what is really going to help us."
Her objectives for the season are definitely more team oriented than individual.
"My goals are not really about placement, but I just try to bring my best time this year," Ralston said. "I'm not the best runner, so I just want to beat my best time. Then for the team, since we made it to state last year, to make it back would be amazing, but I want us to focus on one step at a time. So winning district and then region and hopefully get to state."
In spite of being the younger sister of former football standout Nick Ralston, Madison said she does not feel any extra pressure to perform.
"I think it would be different if I was a guy," Ralston said. "If I was his little brother, I would feel like I had bigger shoes to fill. But I feel like people are more lenient on me."
Olson said she is always impressed with Ralston's ability to devote herself to multiple sports and activities and said she has been a joy to coach.
"She has been such a huge part of cross country going on three years," Lankford said.
"Balancing cross country, academics, basketball, track, etc. isn't easy and she does it every year. I am so blessed to have a person like Madison in the program, and I have loved getting to know her."
Ralston's Favorites:
Favorite Athlete: Michael Jordan
Favorite Team: Arizona State Football
Favorite Food: Chicken
Favorite Movie: Maze Runner
Favorite TV Show: Criminal Minds
Last Book Read: The 13 American Arguments
Favorite Musical Group or Performer: Katy Perry