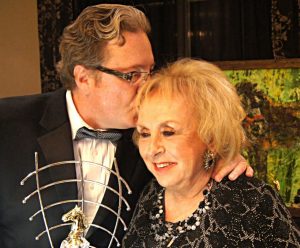 It's time to saddle up for a Hollywood-style dine and dance event benefiting an area animal sanctuary and a haven for some of the most desperate children in need of a safe place to heal.
The 4th Annual Saddle Up – Hollywood Style is happening next month as a charity event for Ranch Hand Rescue in Argyle.
The event is happening November 14 at the Austin Ranch in Grapevine. It will be hosted by Doris Roberts of "Everybody Loves Raymond" fame, with FOX 4's Mike Doocy and honorary chairs Sheriff Will and Shelley Travis.
Ranch Hand Rescue's mission is to save abused and neglected farm animals with a special focus on animals requiring critical care, to adopt out rehabilitated animals, and to provide a caring sanctuary for animals that have ongoing needs.
The other arm of RHR is a counseling center that helps people with personal, mental and psychological challenges through equine/animal-assisted counseling.
RHR founder Bob Williams said this is the biggest fundraiser of the year for the organization, which is funded through grants and donations. Services are offered free to children and battered women. Some clients can afford therapy and those funds help offset the nonpaid clients.
Dinner, dancing and a live show will also feature two time Grammy nominee Karina Nuvo, "Jilly," Joey Santos, Angel Bonilla, Jack Betts and Carly & Katie Haynes.
The event was such a success last year that they needed a larger venue this year, Williams said. The group hopes to sell 450 tickets. Last year 380 flew off the shelves.
Williams said RHR is hoping to raise $150,000 to go toward a new facility in Denton.
"It's going to be a great dinner and a great show," he said. "We ever want to turn away a child or a woman who has been through what they've been through."
Tickets are only available online, but checks for payment can be mailed in if needed.
Diamond table packages are available for a $10,000 donation. Platinum table seats are $7,500; gold table seats are $5,000; silver table seats are $2,500; and bronze table seats are $1,500.
RHR has a clinical director and five counselors, each with their own specialty. The group has recently begun offering counseling to veterans and their families.