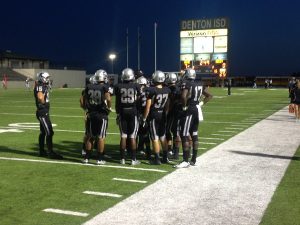 By Cole Carrick
On the ground or in the air, Shawn Robinson was able to find the end zone time and time again in the Guyer Wildcats' 48-3 win over Northwest High School Friday night at C.H. Collins Athletic Complex in Denton.
Robinson, a five-star recruit committed to TCU, threw for four touchdowns and added one rushing score to take care of the Texans with ease.
However, it wasn't just the dual threat quarterback making plays on the field. The Wildcats' defense stifled the Texans' offense all four quarters. The Texans were unable to even find the red zone, with their only points coming from a 42-yard field goal just before halftime.
When asked about the victory and how his team could use it as momentum going forward, head coach John Walsh responded with a lot of enthusiasm. "Well we're gonna use it and enjoy the win, we gotta eliminate penalties if we're going to be a championship program."
Many of the penalties Walsh referred to came after the whistle had blown. One in particular came on a third down, when senior Tevan McAdams was called for an unsportsmanlike conduct penalty after exchanging words with a few members of the Texans offensive line. The penalty gave the Texans a first down instead of forcing a punt, and they would end up scoring their only points of the game.
Despite a number of penalties, there is no doubt Guyer's head coach was satisfied with his team's blowout win, as well as the stellar play from his starting quarterback.
Robinson, coming off a season in which he was named the District 5-6A Overall MVP, played as if he hasn't missed a step. His stats are overwhelmingly impressive, and he continued that Friday by adding those five touchdowns. However it was his team play, and his encouragement to his teammates that seemed to keep the Wildcats' gelling. After every extra point attempted, Robinson could be seen high fiving the special teams unit coming to the sideline, as well as celebrating every touchdown with his offensive squad.
Walsh, Robinson and the rest of the Guyer Wildcats look to stay undefeated in district play as they take on Keller Fossil Ridge next Thursday.