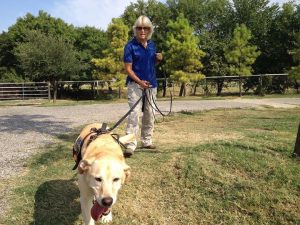 Godiva, Bosco and Breeze aren't typically names you hear given to detectives. But these three have been sniffing out lost pets over the last decade and all over the country.
Along with their handler, Argyle's Kat Manning, these Labrador retrievers have helped locate cats and dogs thought forever lost to their families. Manning, a former search and rescue worker, started her business, Dog-Gone Detectives about 10 years ago.
Since then, Godiva and Bosco, chocolate Labs, have crossed the rainbow bridge, and the current canine gumshoe is Breeze, a 5-year-old yellow Lab.
As a search and rescue professional, Manning used to hear people talk about lost pets and wonder about rescuing them.
"I was like why can't we do that?" Manning said, sitting on her back patio as Breeze and her brother Buck tumbled and romped around the yard.
As so she made it her business to know just how to find lost dogs. As Dog-Gone Detectives took off, Manning left her career searching for missing people and swapped it for full-time pet detecting. She started training 6-year-old Godiva on trails used by the SAR team, and the Lab quickly picked up the scent of discovering lost doggies.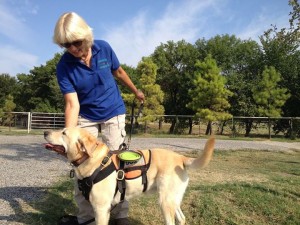 In 2006, Godiva, then 9, tracked a German shepherd police dog and brought him back to his home. The shepherd was a Fort Worth Police Department K-9 officer.
"I got so busy after the police dog, I was getting 2 to 3 calls a day, and I only had one dog," Manning said.
She is one of just two pet detectives in the state of Texas. The other one is a friend in Grapevine named Bonnie Hall, who handles lost cats. The two pass along cases that are better suited for the other woman's dog.
But how do they do it?
Scent of a canine
"Say you lost your dog. You're putting signs up but they're not in the right place. We take Breeze out and we go, 'OK, the trail ran out here, so you need to put signs here.'"
That's how owners and whoever may have seen or picked up the lost dog are united.
Manning and Breeze usually don't actually find the lost pooches, but with their help directing dog owners to the right spots, Dog-Gone Detectives has a 75 percent "find" rate.
"Every time I go out I pray, but I don't pray that we find the dog, I just pray that the dog is found and that we can help the owners however."
Unfortunately, some endings aren't as "yappy" as most, like the Chihuahua in Florida whose trail stopped at the edge of an alligator infested swamp.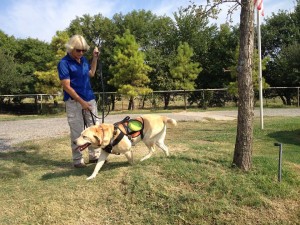 "[It's] sad, most of the time people are crying, but [they are] at least grateful they can stop looking," she said.
On the rare occasion that pups are found alive directly by Kat and Breeze, the canine escapees are often too nervous to let the duo come near them.
"A lot of times they're skittish and they haven't been picked up because nobody could catch them," Manning said. "So what usually happens is we get [the owners] to the area … and then we back out and let them go into the area because [the pet is] so skittish.
"And usually the people can't even catch their own dog because by then, they're just freaked out. They go into survival mode."
Owners tag along with Manning and Breeze on their hunts and after some gentle coaxing, or perhaps just a little patience, the families are again made whole.
A golden from Waco
The most recent dog that Manning and Breeze found was a Golden retriever in Waco, who had wandered off from home about 10 days before the "Dog-Gone" hunt began.
"I try not to give them too much hope, but I want them to know they might not be looking in the right place," Manning said. "You dog may have gone further than you think, or not as far, or whatever. Most of the time when we get going on a trail people are like, 'Wow, we didn't even know this place existed.'"
'[The golden retriever] was in a big old rough neighborhood hanging out with the pit bulls," she said. "He was dehydrated to the max."
A photograph of the reddish golden boy showed just how many bowls of water he had missed while on the lam. His paw pads were also scabbing after being severely injured on his trek.
There had been only one definite sighting of the golden, about a block from his house, so that's where Manning and Breeze began their search.
She described a cul-de-sac with a second road leading out and a heavily wooded stream.
"So Breeze goes down into the creek and it is so thick in there and the bank is high," Manning said. "So she does go up the bank once, but then she's like, 'No, I'll go back down.' It was treacherous, I mean it was horrible."
Manning said Breeze didn't know which direction to sniff out first. She explained that if a dog were up on an embankment like that, his scent could only go down into the creek.
"We took Breeze multiple places and we couldn't figure it out so I said 'Take me to that creek again.'"
That's when Breeze's brown tipped yellow muzzle picked up the scent of the golden retriever.
"So I'm just walking her down the road and boom, she went into somebody's back yard. There was an alley in back, and then it went into the next street over and then we were in this driveway and right then this lady pulls up in her car."
After showing the photo of the dog, the driver said she'd seen him several days before. But the lead took them down to an area with a lot of pit bulls.
"It was so hot and Breeze was getting worn out," Manning said of their Waco workday. Fervent pleading from the dog's family and a break from the heat led to an evening search. "They were so desperate."
"They had lunch for me and then boom, we got a phone call," she said.
Fast forward 20 minutes and the search team was again dismayed standing in a neighborhood where the caller had seen the dog the evening before.
"We thought she had seen the dog right then," Manning said. "So we rushed over there. I got Breeze back to work and we're tracking. This dog has been everywhere in that neighborhood, I'm talking back and forth and up and down and around. But it was between this street and this street, and that street and that street," she said, drawing a square outline on the patio table to describe the area.
After narrowing down the search to a 4-street square, Manning and Breeze were ready to head back to Argyle.
"So they finally let me go home. The next day they sent me that picture," she said, holding up the photo of the golden with an IV in his arm. "They found him, he was in their neighborhood … wandering."
The golden was about four miles from his home when his family found him. So much for dogs knowing their way back home, or is it?
Oftentimes, dogs are lost when being watched by others, and out of their element.
"The dog isn't in their own area, so they don't know anything," Manning explained.
Holidays and happy tails
Manning chose Labs because Godiva happened to be one, and she thinks they are excellent working dogs. Between Bosco and Breeze, she also trained a long-haired German shepherd named Banjo.
"That German shepherd could care less about that game," Manning said, drawing out her words to emphasize just how little Banjo was interested in being a doggie detective.
"I could probably use a Border collie, but their breed is more like herding," Manning said. "I guess the fact is that I just like Labs. I would really like to have a Doberman Pincer, but I think they're a little intimidating sometimes. You show up with a Lab, the Lab's all like, 'Woo hoo, Woo hoo,'" she said, waving her arms like a Lab wiggling on the ground. "People are going to be right at ease."
For a local case, Manning charges $400 to search. There is an additional charge for out-of-town cases. Despite the rural nature of Argyle, Manning said she doesn't get a lot of calls from the area.
The Fourth of July tends to be a busy time for Dog-Gone Detectives, sometimes because people take their dogs to the fireworks. Such was the case with a Roanoke family whose dog got out on the holiday after a neighbor was shooting off fireworks.
It was getting dark when Manning and Breeze started tracking this dog. It's important to wait until the weather is cooler, which is when a dog's scent falls lower to the ground, she explained. When they arrived at the neighborhood to search, fireworks were going off everywhere.
Breeze seemed confused, having stopped her scent tracking in the middle of a pasture.
"It was a dog her size so I know somebody didn't pick it up," Manning said. "So we started back to where I knew she could smell the scent on the trail and she wasn't picking it up there either. I was like, 'This is weird.' Then I realized, all the fireworks had all that stuff [sulfur] going in the air. She totally lost it."
The next morning, Manning got a call from the missing dog's family. He was spotted going through a pasture and down the road and was picked up in the area thanks to signs they posted after Manning and Breeze tracked the lost dog to a certain neighborhood. Yappy ending #2.
These days, Manning, who recently moved to Argyle from Ponder, gets 3 or 4 cases per week. Business tends to pick up around holidays and during the summer, when families vacation. She often gets calls from boarding facilities and veterinarians, and sometimes people out of the country calling to ask her to go out and search for their pet.
During their down time, Manning tends to 14 horses, 8 dogs, 7 ducks and a rabbit on a local farm where she and Breeze live.
There's even a "dog run" on site for the canines, including the yellow Lab working girl, who clearly loves to play and loves to work. A quick trip to retrieve something from Manning's SUV nearly sent Breeze into a tailspin, thinking they were going on a hunt.
But then the car door shut and Lab crying ensued.
"C'mon Breezy girl," Manning called out to her dog, who stopped her lament, trotted over to her "mom," and all was right again in dog world.