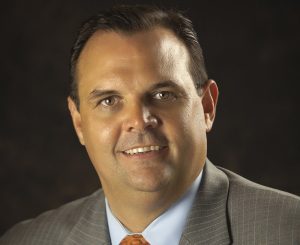 Dear Denton ISD Community,
Welcome to the new school year and the start of another great year for our students.
I'm sure all of you were either anxious or ecstatic for the first day of school. As a former teacher, I can tell you our educators have that exact same feeling before that first bell rings and we welcome students into our classrooms.
I had the pleasure of visiting each one of our 38 campuses – yes, 38! – during the first couple days of school and can tell you that our teachers and staff are no different. Our teachers were both anxious and excited to start the new school year, and those emotions turned to joy once students began streaming into our buildings.
Smiles, hugs, high fives and fist bumps became the norm as students, teachers and staff became reacquainted with each other after the summer break. The first few days of school are typically my favorite of the year because you feel the energy from everyone excited to be back with their friends and colleagues, eager for whatever challenges lie ahead during the coming year.
Every student – from the wide-eyed 4-year-old joining a Pre-K classroom for the first time to the seniors attending school on their last first day – is expecting to have a great year filled with triumphs and accomplishments. I am confident they will meet or exceed these expectations because our staff has professionally prepared themselves to help them get there and, more importantly, wants each of them to succeed.
I am reaffirmed of that belief every time I walk through the front door of my home because like you, I am a parent in our district. And like you, I want the best for my child. Seeing how much she has grown the past few years and how prepared she is for the next step after graduation, I can truly say that she has received the best that Denton ISD has to offer.
Giving our students the best that we can give is what we strive for on the first day of school and each day thereafter because we want them to ultimately reach the triumphs and accomplishments they so deserve.
As a member of the Denton ISD family, you are part of one of the fastest-growing school districts in North Texas. We've grown by almost 10 percent over the past five years and 15 percent over the past decade, with our enrollment increasing by almost 10,000 students since 2005.
But one thing that we've always prided ourselves on is our ability to stay close to our roots and maintain that small-town feel. So you can be assured that your children are in a place where they will be nurtured, supported and excited to learn and achieve.
We anticipate having more than 27,000 students this year and we're going to treat every day like it's the first day of school and maintain that enthusiasm until the last day. It's the best way to ensure they get the best educational experience possible.
Dr. Jamie Wilson, Superintendent
Denton Independent School District