All lanes are now open on FM 1171 in Flower Mound after a gas leak shut down the road Thursday afternoon between Auburn Drive and Bridlewood Boulevard.
Reports indicate that construction crews hit a 6-inch gas line.
The leak did not spawn any fires, said Brandon Barth, Flower Mound fire spokesman.
CoServ crews arrived on the scene and made the necessary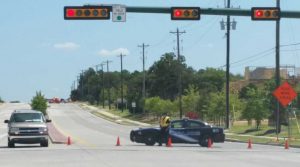 repairs.
A mobile home park adjacent to the scene was not in immediate danger due to the leak, Barth said. Residents were notified, and either were not at home or sheltered in place.
Gas monitors picked up no danger in the park, Barth said.