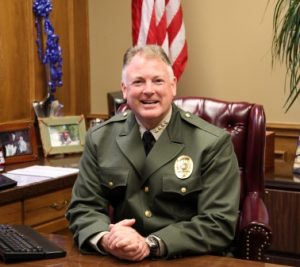 by Sheriff Will Travis
It's the first full month of school, and the Denton County Sheriff's Office is focusing on back-to-school safety. For the first week of school, we had officers in all the school zones in the unincorporated areas of the county, both morning and evening to ensure that everyone's year got off to a good start.
This also seems like a great time for some reminders for all of us about how to keep our kids safe as they begin a new school year.
Walking to school
Use the same route every day. Never use shortcuts.
Always use public sidewalks and streets when walking to school.
Demonstrate traffic safety awareness and pick the safest route between your home and the school and practice walking it with your children.
Try to walk to school with other students.
Teach your children to recognize and obey traffic signals, signs and pavement markings.
Only cross streets at designated crosswalks, street corners and traffic controlled intersections.
Look both ways before crossing the street and never enter streets from between obstacles like parked cars, shrubbery or signs
Always walk and never run across intersections.
Never talk to strangers. Teach your children to get distance between themselves and anyone who tries to approach or make contact with them.
If a stranger does approach your child, make sure they know to immediately report the incident to you or a teacher.
Teach your children to never get into a vehicle with anyone, even if they know them, without your permission.
Riding Your Bike to School
Check with the school to make sure your child is allowed to ride their bicycle to school. Some schools do not allow students to ride bicycles to school until they reach a specific grade.
Make sure your child always wears a bicycle helmet! Helmets reduce the risk of head injury by as much as 85 percent.
Obey the rules of the road; the rules are the same for all vehicles, including bicycles.
Always stay on the right-hand side of the road and ride in the same direction as traffic.
Be sure your child knows and uses all of the appropriate hand signals.
Choose the safest route between home and school and practice it with children until they can demonstrate traffic safety awareness.
School Bus Safety Tips
Everything you need to know to keep your kids safe in and around the school bus.
Taking the bus for the first time is a big step for your child. Help your kids get a gold star in bus safety by following these tips.
Walk with your kids to the bus stop and wait with them until it arrives.
Teach kids to wait for the bus to come to a complete stop before getting off and never to walk behind the bus.
If your child needs to cross the street after exiting the bus, he or she should take five giant steps in front of the bus, make eye contact with the bus driver and cross when the driver indicates it's safe.
Instruct younger kids to use handrails when boarding or exiting the bus. If your children drop something, they should tell the bus driver and make sure the bus driver is able to see them before they pick it up.
Drivers should always follow the speed limit, and slow down in school zones and near bus stops.
Slow down and stop if you're driving near a school bus that is flashing yellow or red lights. This means the bus is either preparing to stop (yellow) or already stopped (red), and children are getting on or off.