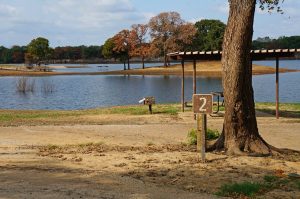 Thanks to a $400,000 Texas Parks and Wildlife Outdoor Recreation grant, Flower Mound will be able to add a few more wish list items to the planned Twin Coves Park upgrades scheduled to begin this fall.
In November, crews will begin construction on 19 furnished cabins and 18 new RV slips, in addition to a variety of other amenities including: small craft launch with fishing pier, disc golf course, playground, two 25' x 35' pavilions, grass volleyball court, a great lawn area, nature trails, and a lake overlook area with a fire pit and seating. Each RV slip will be equipped with the latest 50 amp utility hookups that will accommodate the newest and largest RVs.
Twin Coves is expected to reopen in fall 2016.
"We are excited to begin the next phase of Twin Coves Park and provide residents with a great overnight camping option without leaving Town," said Gary Sims, Executive Director of Community Services. "For those who have not had the chance to visit Twin Coves, it has the best views of any U.S. Army Corps of Engineers park on Grapevine Lake."
However, before any new construction can begin, crews will need to clean-up Twin Coves Park, which was largely under water since May's historic rains. The flooding damaged the park's electrical system, fire pits, left behind major debris, and carried off several trash receptacles. Approximately 40 trees died in the flooding; those will also need to be cleared. In fact, park employees were not even able to access Twin Coves until August 17 to begin damage assessments.
Grapevine Lake is currently 12-feet above conservation pool level and is not expected to be at normal levels until September. The town is in the process of filling out the appropriate paperwork with FEMA to recover some of the costs associated with the clean-up and repair of the park.
Since the park has been closed since May and will remain closed until cleanup and construction are complete, the town will issue a partial refund to all annual pass holders. For annual pass holders that have additional questions, please call the Parks and Recreation Department at 972.874.6300.