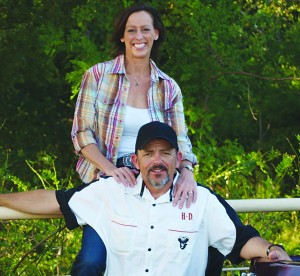 Leroy Thompson and his fiancee, Kari Shields, have achieved an impressive combined weight loss of 107 pounds in less than a year, illustrating that consistency and discipline, complemented by the training and nutrition program provided at Jesse James Fit in Flower Mound, yield astounding results!
Leroy is a production system technology service specialist with Ricoh Business Systems and Kari is the office manager at Pro Form Clinics in Highland Village. The couple has lived in Denton County for the past 14 years with their three teenage children.
Kari is a native of Dallas graduating from J.J. Pearce HS. Leroy is a graduate of Chamberlain HS in Tampa, Florida and 10 year veteran of the US Navy.
How did you find out about Jesse James Fit?
"After meeting one of the trainers at a volunteer event, we visited the studio and were instantly comfortable. The staff was unbelievably welcoming and we signed up immediately."
How has training together as a couple impacted your relationship with each other?
"It has brought us closer by celebrating our individual achievements while allowing us to work on the common goal of creating a healthier future together."
How has training at Jesse James Fit changed your individual perspectives on health and fitness?
"It has not only changed our relationship with food, but has also given us the tools to live a healthier lifestyle. As we are both in our 40's with growing children, we wanted to make lifestyle changes that would ensure our long health for many years to come."
What goal(s) have you each achieved as a result of training at Jesse James Fit?
"I [Leroy] have lost 80 lbs and Kari 27 lbs. At 46 and 44 years old, we feel 25 again! Thanks to our trainers, we continue to set and work towards new goals."
The content in Local Experts is provided by our Sponsors.