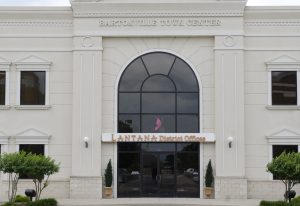 Swimming Pool Trespassers Prompt Patrols
The Lantana Community Association has hired security patrols to keep people out of the neighborhood pools after hours.
Mark Norton, Lantana community manager, said the courtesy patrol company checks the pools a couple of times a night after they close at 10 p.m.
"People of all ages were sneaking in and using the pools after 10 p.m.," said Norton. "We also put some extra mag locks on the neighborhood pool gates after we saw kids as young as eight years old pulling on the gates and being able to enter without an adult present."
The three neighborhood pools in Heritage, Sandlin, and Larkspur are open daily from 9 a.m. to 10 p.m. The two main pools at the North and South amenity centers are open from 4 a.m. to 10 p.m. daily.
Waste Management Contract Extended Five Years
After several months of negotiations, Lantana officials in July approved to continue their relationship with Waste Management, the development's residential trash and recycling collector, for five years.
The new agreement will include a 7-percent increase– which equates to $1.07 more per household per month– during the first year, with subsequent yearly increases based on the Consumer Price Index (CPI).
Waste Management officials initially approached Lantana with a proposed 10-percent increase.
When asked about recent concerns from residents about garbage trucks running late, Lantana General Manager Kevin Mercer said that he would address that in the new agreement.
"One thing I am going to put into the new contract is performance standards and penalties," said Mercer.
The new agreement will go into effect on January 1, 2016.
Fogle Named To Board
Fresh Water Supply District #7 board members in July appointed Randy Fogle to the seat left open after the resignation of Jim Lieber, who has moved to Bartonville.
Fogle, a 7-year resident, serves on the executive board of Honor Flight DFW, a charity that flies World War II veterans to Washington, D.C. to see the World War II Memorial. He resides in the Azalea subdivision.
Fogle will finish out Lieber's unfinished term which runs until May 2016.
Lantana's two fresh water supply districts are local government entities organized under Texas state law to provide water and sanitary sewer service to Lantana, along with the maintenance of streets, signs, sidewalks, drainage, and water and sewer facilities.
Board members are elected by residents and serve four-year terms. The boards meet monthly at the Lantana District office in Bartonville Town Center.
Association Offering Football Outing
Lantana residents have the opportunity to cheer on their local college football team this September.
The Lantana Community Association has partnered with the University of North Texas in Denton to purchase up to 200 tickets to their opening day football game on Saturday, September 19, and offer them to residents at a reduced cost.
The $15 package includes a ticket to the game, a pass to a private Lantana resident tailgate party catered by Rudy's Bar-B-Q and a t-shirt.
"We will do a blast email the second week of August so residents can purchase tickets on a first come first serve basis," said Mark Norton, Lantana Community Manager.
Norton said that promotions like this one are held on a regular basis to incentivize homeowners to sign up for the Association's email so the HOA can better communicate with them.
Call the Lantana Community Association at 940-728-1660 with questions or to update your email address.
Lantana Race To Benefit Horse Therapy Center
The 6th Annual Run Lantana 5K race will benefit an area organization that helps people who might need some extra care.
SpiritHorse Therapeutic Riding Center in Corinth has been chosen to receive funds raised from the race. SpiritHorse offers horse therapy to children and adults who have been diagnosed with disabilities. Therapy is provided at no cost to participants.
Previous beneficiaries were the Hydrocephalus Foundation, Pedi Place Pediatric Center and the Children's Advocacy Center.
This year's race is planned for September 19 at Blanton Elementary School.
"The race will attract 300 to 700-plus people," said Mark Norton, Lantana Community Association manager. "The average runner is between 35 and 45, but our race targets as young as 8 and as old as 70 plus. The event is very family oriented and a lot of fun!"
Last year, the event raised more than $12,000 for Cumberland Presbyterian Children's Home of Denton and organizers say they hope to raise more this year.
To find out how you can volunteer or sponsor the 5K, call the Association office at 940-728-1660.
Fall Garage Sale Scheduled
Clean out your closets and get ready for Lantana's Fall Garage Sale on Saturday, September 26, from 8 a.m. to 3 p.m.
The Lantana Community Association will promote the sale, provide directional signs and place a banner at the community entrance. No individual signage is allowed.
Residents who wish to participate in the sale should call the Association at 940-728-1660 by September 23rd.
 Recent Police Calls
June 30 – Fraudulent Use or Possession of Identifying Information – 8400 block of Navisota Dr. (Sonora) – Victim advised her personal information was used without her consent.

July 10 – Fraud – 900 block of Mistletoe Dr. (Gaillardia) – Victim was scammed into wiring money to a fake IRS account.
July 13 – Credit Card or Debit Card Abuse – 800 block of Kirby Dr. (Magnolia) – Unknown subject used a fraudulent card to make two purchases at two different Lowe`s home improvement stores.
July 20 – Burglary of Habitation/Non-Forced – 1500 block of Meadows Ave. (Larkspur)
July 20 – Aggravated Assault w/Weapon – 700 block of Skyler St. (Brenham)
July 22 – Fraudulent Use or Possession of Identifying Information – 9100 block of Christopher St. (Fairlin) – Victim stated unknown actor(s) fraudulently filed tax returns in his name without his consent.
Development Watch
Lantana had 3,180 occupied homes as of July 30 with an estimated population of 10,335. There were 101 new home sales recorded year-to-date as of June 30, with the average new home selling for $404,464 or $130.40 per square foot.

Work will begin soon on a 150 lot subdivision north of Bandera called Barrington, Phase A. The entrance will be off the roundabout at the end of Lantana Trail and the neighborhood will connect to Copper Canyon Rd.
Plans have been reviewed and approved for Tokyo Samurai Restaurant, Terry Donuts, Lantana Eyecare, Nathan Romney DDS., Marble Slab Creamery, and Lantana Spa and Nails in the strip center next to Kroger at Lantana Town Center. Plans should be submitted soon for an additional dentist office and a doctor's office. Construction of Super Cuts has been completed and they are open for business. The Tutoring Center is expected to open this month.
Two additional strip center buildings are going up north of Kroger in Lantana Town Center. Construction will begin soon on a 9,800 square foot multi-tenant building consisting of four lease spaces. Dickey's Barbecue Pit, Domino's, Starbucks and one other business is expected to occupy the building. A second adjacent building will consist of two lease spaces and is approximately 4,200 square feet.
Construction is underway on a 10,474 square-foot, three tenant retail strip center at the northeast corner of Simmons and FM 407 adjacent to the dry cleaners. A sandwich shop and fitness studio are expected to occupy the building.
Completion is scheduled for October on Primrose School of Lantana, located at 7020 FM 407, between CVS and Pizza Hut.
TxDOT has approved a stoplight at the intersection of Branch Crossing and FM 407. The signal is expected to be installed in the next 5 to 11 months.
Originally published in the August issue of The Cross Timbers Gazette.