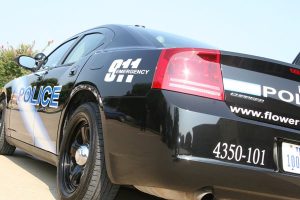 What follows is taken from the Flower Mound police blotter:
On August 11, a man reported that a custom piece of gold jewelry in the shape of a cross had been stolen from him at in the 7700 block of Emerson Lane. The cross is valued at $10,000.*
On August 17 a 31-year-old man was arrested and charged with fraudulent use or possession of identifying information. It happened in the 2900 block of Hamlett Lane. He was arraigned and released on $2,500 bond.
That evening, a home in the 4600 block of Shiloh Road was broken into and a cell phone worth $149 and $165 in cash were reported stolen.
Later, a building on a construction site owned by American Legend Homes, in the 1700 block of Milford Drive, was reportedly broken into sometime since August 15. Two unidentified items were reported stolen, but were to listed to be worth $3,000 in total.
That morning, a report was made that a TechShield worth $1,000 had been stolen from the same site.
A 46-year-old man was arrested in the 6400 block of Cross Timbers Road on the evening of August 18. He was charged with DWI with a child under 15 years old in the vehicle. He was arraigned and released on $3,500 bond, but under the condition that he use and interlocking device for his vehicle.
On August 20, a woman reported that sometime early that morning, a black iPad 2 worth $400 had been stolen from her car which was parked near the 2200 block of Dana Drive.
* Please note, this police report was received by the Cross Timbers Gazette on August 20.