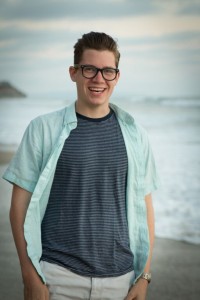 Cole Linebarger has a passion for the arts. The Coram Deo senior is a band officer, a member of the school's choir and starred as Tevye in the drama department's production of "Fiddler on the Roof" last year.
The Flower Mound teen said there is a lot to love about attending Coram Deo Academy, but the best thing for him is being able to participate in so many different activities.
"I think it is definitely that I can all the things I want," Linebarger said. "The schedule on Friday is that you can choose all electives, so because of that, I can do band, choir, drama, jazz band and all that stuff, and if I wanted to, I could also run track. At other schools, you would basically be swamped with all of that."
Linebarger said that he will likely play drums, bass or guitar in this year's jazz band said he is also a chaplain for the school's house system. The Coram Deo senior said he greatly admires a person's ability to make other people feel wanted.
"It would probably be the ability to be very inclusive of others and welcoming," Linebarger said. "There are a few that have made me feel most at home, so I very much value that."
Linebarger has a couple of objectives for this.
"I definitely want to graduate summa cum laude," he said. "So far for high school, I am summa cum laude, so I definitely want to finish that out. I definitely want to finish out all of my fine arts activities well. I would like to be a lead again.
"Then a couple of friends and I are starting worship nights, and we are very passionate about getting the school on fire for the Lord."
Linebarger said his faith is very important to him and said he would like to leave a legacy of that very thing.
"I would like to be remembered as a guy that was very inclusive over everyone, and also be a guy that people look at and say, 'That guy loves Jesus,'" Linebarger said.
He is hoping to attend the University of Texas at Austin where he plans to study business.
Linebarger's favorites
Favorite Subject: History
Person who most inspires him: Brian Johnson
Favorite Food: His mother's chili
Favorite Movie: Harry Potter
Favorite TV Show: Cowboys football games
Last Book Read: Radical
Favorite Musical Group or Performer: Elevation Worship